If you want to make your mark in the world of paid UGC brand work, you're going to need a UGC portfolio that showcases your work. 
I'm sorry, but It's a non-negotiable. When brands say 'drop your portfolio' they mean it. They don't mean drop a link to your various social media accounts. Yes, you can send brands a link to your TikTok account with 604 followers, or even a ghost account that holds your content, but you'll be missing the ability to drive home the USP's of your own personal brand. 
A UGC portfolio can help you attract new collaborations and establish your credibility as a UGC creator. So why not start yourself off on the best foot?
Luckily, creating a UGC portfolio isn't nearly as hard as you might think.
In this article, we'll show you how to create a UGC creator portfolio on Canva. We'll tell you what you need to include in your UGC portfolio, what to leave out and even give you a free template that can get you off the mark.

 

TABLE OF CONTENTS
WHY DO YOU NEED A UGC CONTENT PORTFOLIO?
HOW TO CREATE A UGC PORTFOLIO ON CANVA
WHAT TO INCLUDE IN YOUR PORTFOLIO
WHAT NOT TO INCLUDE IN YOUR PORTFOLIO
Why Do You Need a UGC Content Portfolio?
A UGC portfolio is essential for creators looking to secure paid brand collaborations. The portfolio allows you to demonstrate your skills, creativity, and style, and helps you stand out from the crowd. 
Without a portfolio, you're arguably just a customer to these brands  – creating social content for them organically. 
Learn the craft, create a portfolio, and you move into a different space entirely.
First and foremost, UGC is a business. This isn't just posting on social media for fun. Brands are willing to pay big bucks for the top UGC creators, and like any other freelance niche, creators need to prove that they can have the skills and know-how to get results.
Consider this. If you were a website designer, you wouldn't start contacting local businesses without having a portfolio of websites you've designed. You just wouldn't. UGC isn't any different.
How to Create a UGC Portfolio on Canva
Canva is an excellent platform for creating a beginner UGC content creator portfolio, even if you're not a professional designer. You need little to no design skills to pull together something that looks pretty funky. 
For beginners, it's the most accessible way to create a UGC portfolio to share with brands.
📁 Create a free Canva account and log in to the platform.
🎨 Use a template or start from scratch. Canva offers many templates that are perfect for creating a portfolio, so take some time to browse through them and choose one that fits your style, or use our free UGC portfolio template. 
Include a bio and contact information. Don't forget to add a brief bio that highlights your skills and experience, as well as your contact information so potential partners or collaborators can get in touch with you.
🎞️ Add your content. Start by adding your best work to the portfolio. Make sure to choose a variety of content types to demonstrate your skills and creativity.
🖼️ Customize the design. Canva makes it easy to customize your portfolio to match your brand or personal style. You can change colors, fonts, backgrounds, and more to create a unique and memorable portfolio.
🚀 Generate a shareable link, and you're off to the races.
What to Include in Your UGC Content Portfolio
Your UGC content creator portfolio should showcase your best work and highlight your strengths as a creator. 
Less is more when it comes to your portfolio. Make it as easy as possible. If you're going to make it scrollable rather than clickable. 
It should be an easy to navigate site with the UGC content front and center. You should include:
✅ A Short Bio
We've already said it, the focus of your portfolio should be your content. So let's not write war and peace here. Introduce yourself, including anything that sets you apart from other creators. Only add information that will increase the quality of your applications. If you create a lot of pet content, include information about your dog. Include where you are based. This is vital for brands with physical products. If they don't ship to the US and want a British accent, the chances are, you may not fit the bill.
Perfect example, Emma Garnett's bio. Quick, snappy and to the point.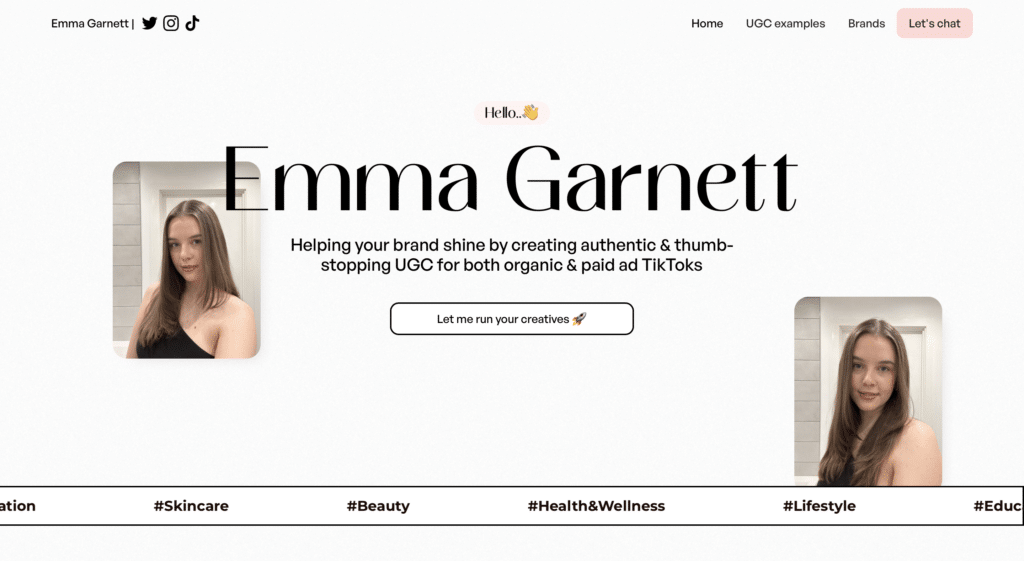 ✅ Examples of work
Make sure you have one strong hook, pain points, before and after and a call to action. UGC is an art, and if you want to be paid, brands and agencies will want to see these variations of content. Ensure these videos are top of their game in terms of UGC editing and always have at least one video showcasing your voice. 
Skip the imagery page. I know you don't want to hear that. But brands are paying for the UGC video content, generally, the imagery is an add on. Demonstrate your ability in your profile picture and your contact me page, but leave out the section that displays them in all of their glory.
Top tip: if you have a lot of videos to play, turn autoplay off.
✅ Testimonials or endorsements
We'll say it until the cows come home. UGC is a business.
Glowing client reviews add strength to your argument as a creator. Where possible, include stats or numbers for content that has been utilized by brands. 
If you're new to the game, include snippets from Fiverr or Upwork reviews.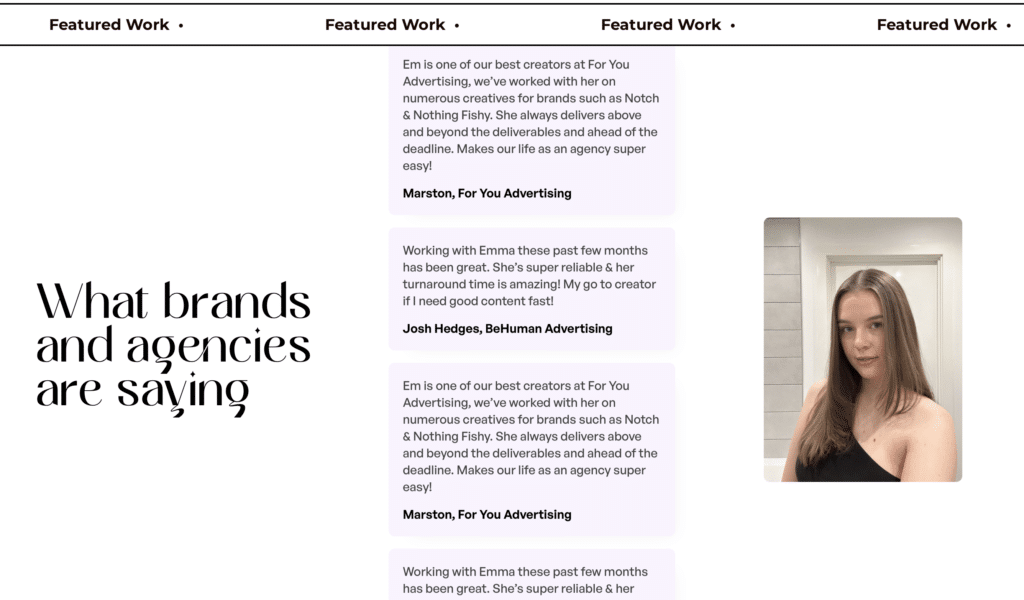 ✅ 
Packages
Packaging your UGC content is essential if you want to attract clients, build your brand, and make a consistent and predictable income. A good starting point is:
1 UGC Ad: Find your base rate for 1 video. This option is perfect for the brands who want to see how your content meshes with their product, test the waters, or get some content with a low budget. There is always a big potential for them to come back for a bigger package, so use it as an audition. 
3 UGC Ad: The next package will be 3 videos, and you'll bring the price down a little to incentivise brands to move up from the basic package. Each of these ads should be a totally different angle on the product, giving them a taste of what different kinds of content you can do.
The Tester Package: Basically, you'll create three unique ads, with different copy and footage, Just as you would for your 3 ad package, You'll duplicate each of those videos and change just one thing: the hook. All of this together gives the brand 6 unique UGC ads to work with, but you really don't have much more in terms of workload versus your easier package. Offering hook variations allows brands to AB test ads at a much lower price and gives them a higher chance of success. 
Monthly Retainer: This is where you'll make the big bucks. After your packages, add an additional note that says you offer retainer packages, and this is where you can go to town negotiating a fair rate.
✅ Contact information
I see a lot of people forgetting to put their email in their portfolio. This is INTEGRAL for brands. They're going to need to know how to contact you, and you'd be surprised how many people leave this out.
What Not To Include in Your UGC Content Portfolio
❌ Bad Content
While it's important to showcase your best work, there are some things you should avoid including in your UGC content creator portfolio.  For example:
Low-quality content or poorly edited photos or videos
Inappropriate or controversial content
Content that doesn't fit your brand or personal style
Excessive self-promotion or spammy content
❌ Your rates
This is a controversial one. Really, you can go either way. But I've always found that if you have your rates on your portfolio, there are three options:
Brands may think your rates are too expensive. They'll immediately rule you out and choose someone with lower rates.
Brands will think your rates are too cheap. If you're quoting rates that are well-below budget, brands won't tell you that. They'll just pay your cheap rate and you'll be cheating yourself out of the extra value for your work.
Brands will think your rates are just right. This sounds like a best case scenario, but it limits your bargaining power and negotiating options. You always want a little wiggle room to get the best deal for yourself.
The perfect middle ground is to include your rates for your individual ads – your one off packages. When it comes to monthly retainers, keep your cards close to your chest and let brands know that retainer rates are available on request.
❌ Why UGC Spiel
For the love of god, do not include a section about why UGC content is the next big thing. 
If a brand is looking at your portfolio, they most likely already know what UGC is and how valuable it is — they're considering hiring you to create it, after all. If you're doing cold outreach and are worried the brand doesn't already know about UGC, include that value proposition in your email pitch, not your portfolio. 
🚀 Build Your Perfect Portfolio
By following these guidelines, you can create a compelling UGC content creator portfolio on Canva that can help you land those deals. All that's left to do is negotiate and whip up a UGC contract —- then you're off to the races.