If you want to make your mark in the world of UGC, you're going to need a UGC portfolio that showcases your work.
I'm sorry, but It's a non-negotiable. Sure, you can send brands a link to your TikTok account with 604 followers, or even a ghost account that holds your content, but you'll be missing the ability to drive home the USP's of your business.
A good portfolio can establish your credibility as a UGC creator. So, why not start yourself off on the best foot?
In this ultimate guide to UGC portfolios, we're dissecting what makes a good portfolio (and a bad one) and running you through how to put your best foot forward.
Do you need a UGC portfolio?
Yes, you do need a UGC portfolio. It's essential for creators looking to secure paid brand collaborations. The portfolio allows you to demonstrate your skills, creativity, and style, and helps you stand out from the crowd.
Without a portfolio, you're arguably just a customer to these brands – creating social content for them organically. Learn the craft, create a portfolio, and you move into a different space entirely.
First and foremost, UGC is a business. This isn't just posting on social media for fun. Brands are willing to pay big bucks for the top UGC creators, and like any other freelance niche, creators need to prove that they can have the skills and know-how to get results.
Consider this. If you were a website designer, you wouldn't start contacting local businesses without having a portfolio of websites you've designed. You just wouldn't. UGC isn't any different.
What Should You Include In Your UGC Portfolio?
There's no set formula or approach to a portfolio, but there are definitely guidelines you should be following to ensure your work is standing in the best stead. We want to convey credibility, expertise and ultimately quality. More often than not, UGC portfolio's are giving less quality and more DIY.
Luckily, with a few small tweaks you can take your portfolio from a 4 to a 10 real quick. Let's dissect a good UGC portfolio. Here's what you should be looking to showcase…
Cover Page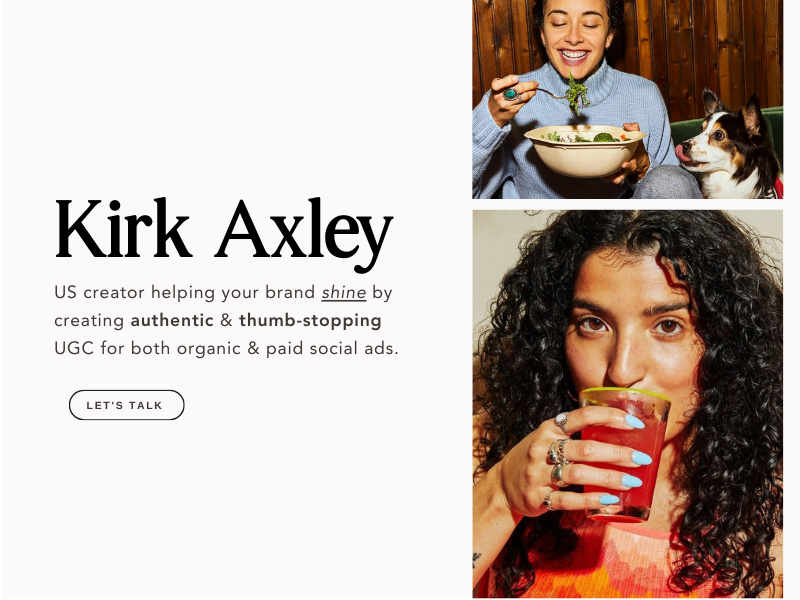 When I approach a portfolio, I look at every page at real estate. That doesn't mean we need to fill up every white space (don't do that) but instead we need to look at what each page is bringing. If your cover page is just your image and your name, do you even need it? I like to use a cover page to not only showcase my likeness and my name, but tell the brands exactly what I can do for them. Not just create UGC, but the problem I solve. Whether it's increase engagement, reduce CPA's or be on the ball with trend led content, offer one sentence about what you do.
USP Page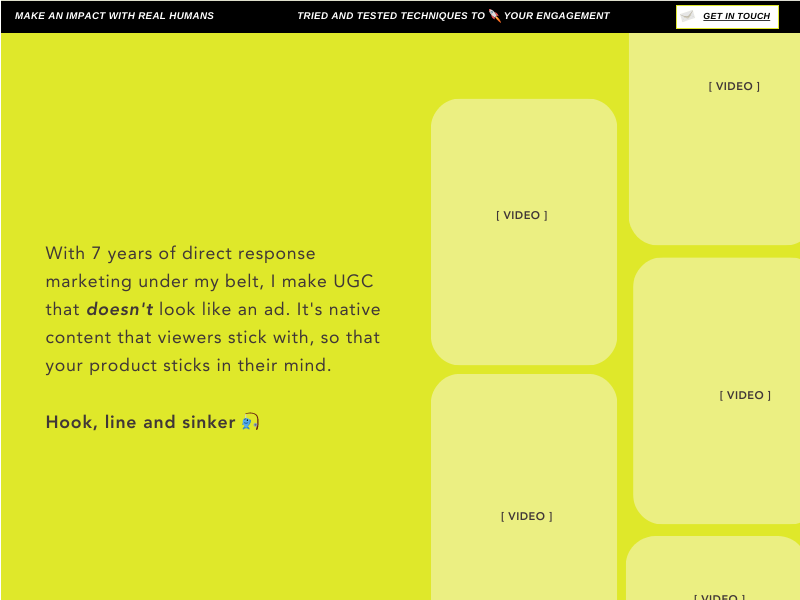 Let's not write war and peace. Introduce yourself, including anything that sets you apart from other creators. If you create a lot of pet content, include information about your dog. If you've got 8 years in D2C, mention that.
If I've not mentioned it on my cover page, I'll mention where I'm based. This is vital for brands with physical products. If they don't ship to the US and want a British accent, the chances are, you may not fit the bill.
Examples of Work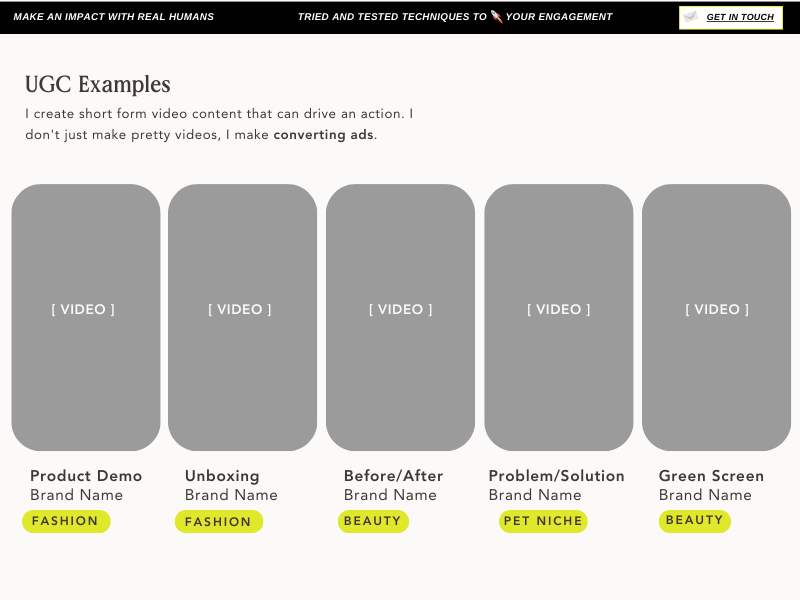 Make sure you have various concepts on display, each following the direct response marketing formula. Strong hooks, pain points and calls to actions. UGC is science, and if you want to be paid, brands and agencies will want to see these variations of content. Ensure these videos are top of their game in terms of UGC editing and always have at least one video showcasing your voice.
Top tip: you probably only need half of the example videos that you are currently showcasing. Any more than 10, and it's overkill.
Skip the imagery page. I know you don't want to hear that. But imagery is generally an upsell, not a stand alone service brands go for. Demonstrate your ability in your profile picture and your contact me page.
Testimonials/Case Studies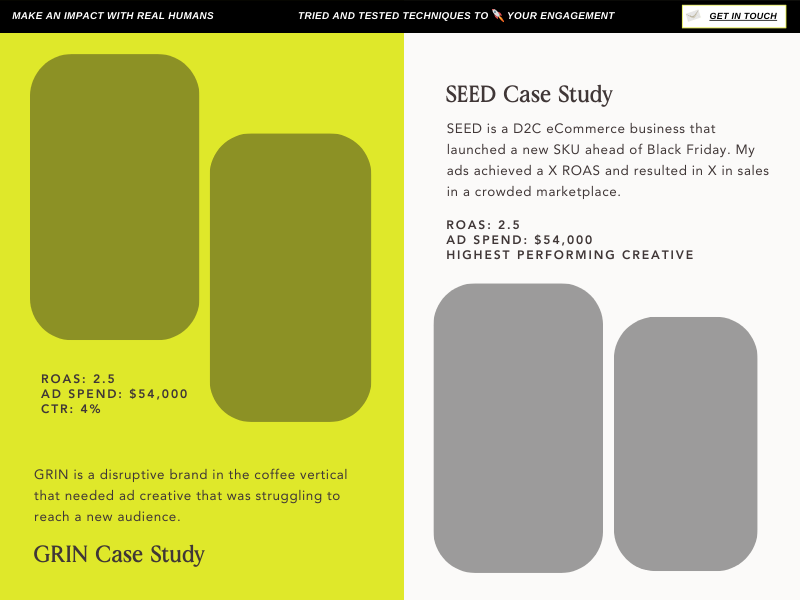 UGC is a business. Glowing client reviews add strength to your argument as a creator. Where possible, include stats or numbers for content that has been utilized by brands and explain the pain point the brand was facing and the solution you offered.
Organic Management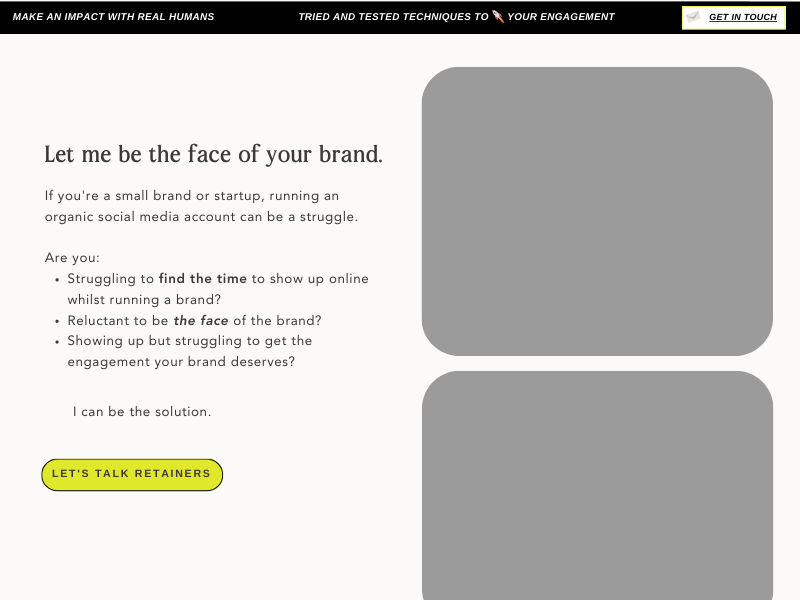 If you've managed organic social media accounts in the past or you've grown your own, this is a great page to include to demonstrate why brands might want to opt for a retainer package. This only works with cold hard figures, so bear that in mind.
Packages & Rates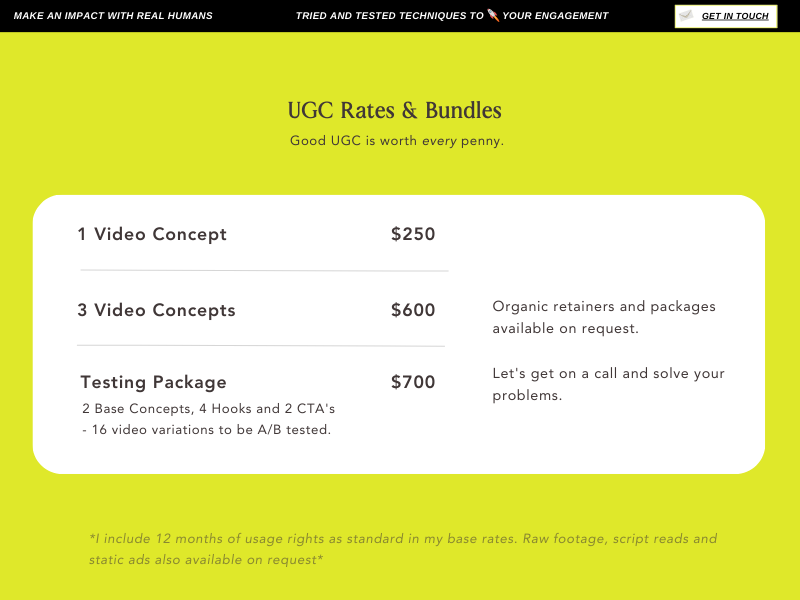 Packaging your UGC content is essential if you want to attract clients, build your brand, and make a consistent and predictable income. But, your portfolio is not a place to sell.
A good starting point is 1 UGC Ad, 3 UGC Ad's and a Tester Package.
After your packages, add an additional note that says you offer retainer packages, and this is where you can go to town negotiating a fair rate.
Contact information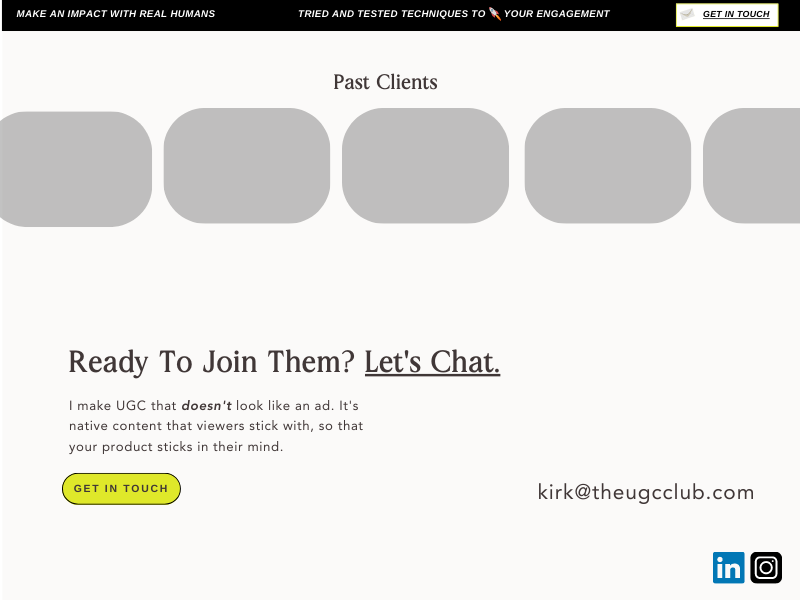 If you've managed to make the sale, give them the information they need to get in touch with you. Display your email clearly, or add a link to book a Calendly call.
Remember that less is more. Avoid overwhelming potential clients with excessive amounts of information. A lengthy "about me" section often goes unread, wasting valuable space. Similarly, sections explaining the benefits or definition of UGC are not necessary. While educating clients about the benefits of UGC is important, your portfolio should primarily focus on showcasing your work and highlighting the results you've achieved for other brands.
Keep your text concise, impactful, and directly relevant to your portfolio's purpose.
What Platform Should You Use For Your UGC Portfolio?
Wix
Wix is an easy website builder that gives a professional finish. How much will it set you back? $17 per month. Do-able, right?
Juliana's Wix portfolio may potentially be a favourite. In fact, no, it is my favourite. It's a really sleek and simple design, which offers a perfect example of how to integrate what is UGC and about me sections really well.
Her portfolio content is displayed in a clear and concise way, and she has a separate page for rates/services. This is a great option for creators who aren't sure whether or not to include rates in their portfolio. They don't take away from the portfolio, and I'm sure many brands jump to emails straight away, so she has a clean slate for negotiations anyway.
Pros
Ease of Use: Wix has a nice drag-and-drop interface, making it easy if you have for no coding experience.
Wide Range of Templates: Wix offers a diverse collection of templates that can give you a head start.
App Integrations: You can integrate your social media feeds, contact forms, e-commerce, analytics, enhancing your portfolio's capabilities.
Cons
Learning Curve: While basic use of Wix is straightforward, more complex customization might require a learning curve.
Slow Site: Your portfolio's performance and availability depend on Wix's infrastructure. If Wix experiences technical issues, it could impact your portfolio's accessibility.
Monthly Subscription Costs: While Wix offers free plans, advanced features and custom domain names require a subscription.
Squarespace
Squarespace is a website building and hosting platform that allows you to create a beautiful home on the interwebs. It's known for its user-friendly interface, elegant templates, and emphasis on *aesthetics*.
Built on Squarespace, this UGC pet portfolio feels like you're hiring knowledgeable and reputable creators in the space. Before we talk about anything else, let's just cover the Meet The Team. As UGC creators in the pet niche, they understand the value in treating pets as members of the family, and how important this will be for brands in the pet space. You'll find Mia & Fred on the team, but you'll also find a Barketing Manager, a Pawject Manager and a Pawditing Intern front and center.
They showcase their portfolio examples — really clearly categorized — and support with results and testimonials. They also cover the process brands can expect to go through if they work with them. The only criticism of this portfolio is a lack of flow, but this is often found in website portfolio's rather than one-pagers. An easy fix is just creating a more logical traffic map and connecting pages with buttons with clear CTA's.
Pros
Professional Templates: Squarespace offers a range of professionally designed templates that cater to various industries and design aesthetics. These templates are designed to be visually appealing and responsive, ensuring your portfolio looks great on different devices.
SEO-Friendly: Squarespace provides built-in search engine optimization (SEO) features that can help your portfolio rank better in search engine results.
Cons
Learning Curve: While Squarespace is user-friendly, there is still a learning curve involved, especially if you're not familiar with website building platforms. It might take some time to get used to the interface and features.
Cost: Squarespace is not free. While it offers a free trial, you will eventually need to choose a paid plan. The costs can add up over time, especially if you require advanced features or e-commerce functionality.
Canva
I feel like Canva needs no introduction. We all know what Canva is. It's a popular graphic design platform and has a whole host of pre-made portfolio templates that can give you your start as a creator.
Canva Example Portfolio
Almost every UGC portfolio template you'll find is built on Canva, so you're not short of any examples. You can use our UGC portfolio template for free, or replicate others really easily.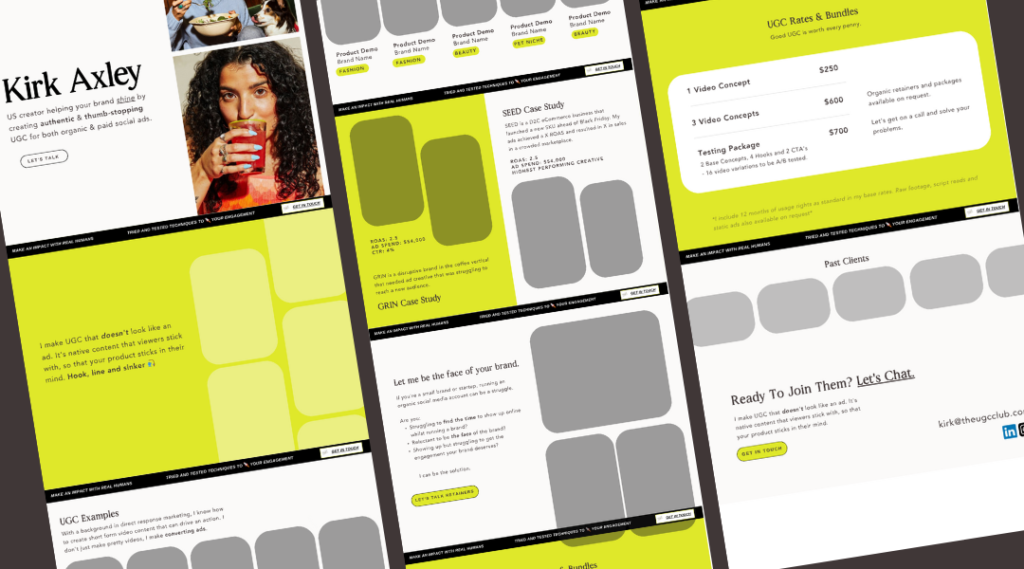 Pros
Ease of Use: Canva is known for its user-friendly interface and drag-and-drop functionality. This makes it accessible to users with varying levels of design experience, making it an excellent choice for building a portfolio without extensive design skills.
Versatility: Canva offers a wide range of templates, graphics, fonts, and other design elements that allow users to create diverse and visually appealing portfolio pieces. This versatility is particularly useful for showcasing different types of work.
Integration: Canva offers integration with various platforms and social media, making it easy to share your portfolio online. This is helpful for reaching a broader audience and potential clients.
Cons
Limited Customization: While Canva is versatile, it might have limitations when compared to professional design software.
Watermark: Canva offers both free and paid plans. The free plan includes a Canva watermark, which could detract from the professional appearance of your portfolio.
Generic Templates: While the templates are useful, they lack the uniqueness that could set your portfolio apart. Using widely recognized templates could lead to a portfolio that looks similar to others.
Do You Need Your Own Domain for UGC?
Short answer, no. But the right answer is yes, you should have a custom domain if you're looking to build a sustainable business.
Coaches will tell you that brands won't care where your content examples are hosted as long as they can view them, but I disagree. This only works when your content is heads and tails above the rest of the creators. As more UGC creators educate themselves on direct response marketing principles and up their game, they level the playing field, and your DIY set-up adds friction on the brand side. Why would a brand go with the creator with a homemade portfolio and great content when they could go with the creator with a professional looking website and great content?
Using a custom domain for your Canva website especially adds professionalism and personalization to your online presence. Pay the $20, get a domain, and you'll soon have a beautiful and fully functional website, not just a presentation.

Dive Deeper With Your UGC Superpower: A Portfolio Deep Dive
In the realm of UGC, your portfolio isn't just a collection of work; it's your gateway to the big money deals. Whether you're a seasoned UGC creator or just starting your journey, having a well-crafted UGC portfolio is a game changer.
Download my comprehensive 43-page UGC Portfolio Guide: "Your UGC Superpower: A Portfolio Deep Dive.
This guide delves even deeper into the nuances of building an exceptional UGC portfolio. It provides step-by-step instructions, real-world examples, and invaluable tips that will propel your portfolio from just ok to exceptional.
Your journey as a UGC creator is about to reach new heights.