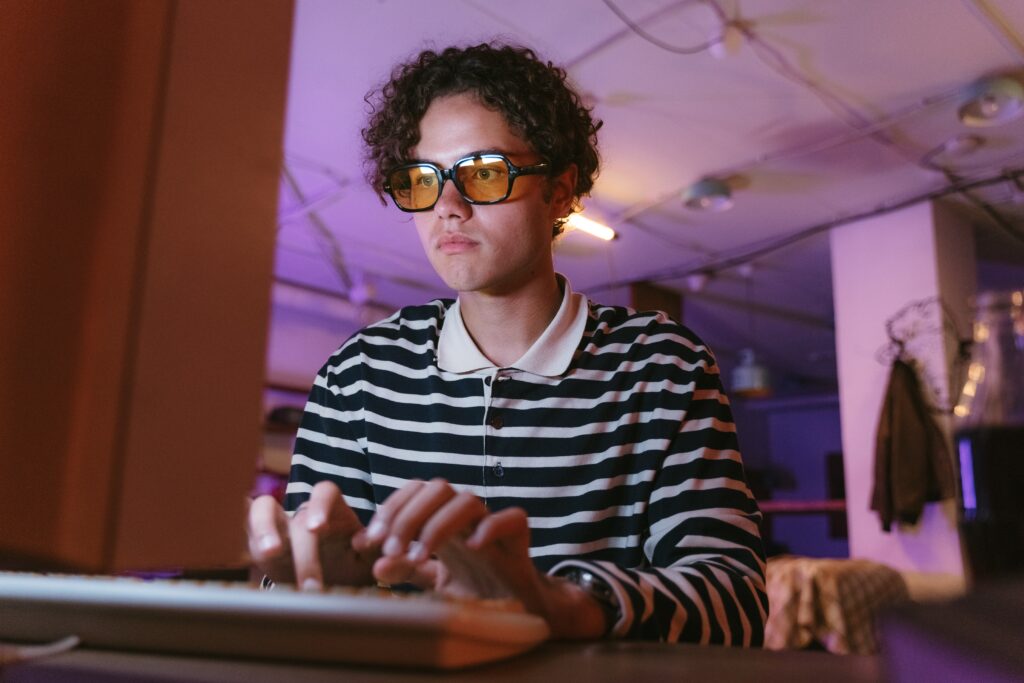 As the world of UGC gets more competitive, it's tough to stand out. We've been there. Applying to Twitter post after Twitter post, going up against the same 200 odd creators with the same UGC portfolios every time. But fear not, UGC creators – we've got you covered!
In this article, we'll showcase 8 UGC portfolio examples that are guaranteed to stop thumbs in their tracks and land you on the brand shortlist. 
From Canva to Wix, to Squarespace or Webflow, we'll dive into the most effective platforms for creating a portfolio that grabs attention in a crowded digital landscape. Whether you're a brand new to the UGC world or you're looking to take it to the next level, these UGC portfolio examples will inspire you to up your portfolio game and land some brand deals.
1. Em Garnett
UGC Portfolio: Emma Garnett
by The UGC Club
Emma's portfolio is the perfect example of less is more. Take note new creators: there is no war and peace bio. Helping your brand shine by creating authentic & thumb-stopping UGC for both organic & paid ad TikToks. She doesn't explain what UGC is or why brands should be using it. She lets her content do the talking — just seven examples of UGC videos. More than just the video, she includes the brand name, and ultimately testimonials from agency partners. Word of mouth is important, and if you can include testimonials from real brands, this can make a big difference when it comes to legitimacy. Emma actually includes two in her portfolio, but has these scrolling to make it look like more. Work smarter, not harder people.
Despite the fact that it looks incredible, Emma's site is actually free. Hosted on webflow.io, she isn't on a paid plan. Sign up for Webflow today and give it a go.
2. Liam Cass
This is a perfect example of a portfolio that sells brands the dream.
Liam doesn't introduce himself —- simply what he does. Helping Brands increase their conversion rate through Short-Form UGC Creatives. From the off-set, he shares hard figures. Money spent, views generated. I have a proven track record of boosting sales and lowering CPA's. This isn't a portfolio of a creator simply setting out to create pretty content: his portfolio shows expertise and authority in the space. He features 12 video examples (none of which are on autoplay, take note!) that showcases what he can do to get results.
And that's about it. A short page for rates, and a link to contact him for more info.
Liam's portfolio, like Emma's, is built on Webflow. The difference between them is the custom domain. Rather than using the free plan, Liam's site is hosted on a basic plan, which will set him back around $15 per month. Sign up for Webflow today and give it a go.
3. Mia & Fred
Mia & Fred demonstrate what you can do with a UGC portfolio when you niche down. Before we talk about anything else, let's just cover the Meet The Team. As UGC creators in the pet niche, they understand the value in treating pets as members of the family, and how important this will be for brands in the pet space. You'll find Mia & Fred on the team, but you'll also find a Barketing Manager, a Pawject Manager and a Pawditing Intern front and centre.
They then showcase their portfolio examples — really clearly categorised — and support with results and testimonials. They also cover the process brands can expect to go through if they work with them. The only criticism of this portfolio is a lack of flow, but this is often found in website portfolio's rather than one-pagers. An easy fix is just creating a more logical traffic map and connecting pages with buttons with clear CTA's.
Built on Squarespace, this UGC pet portfolio feels like you're hiring knowledgeable and reputable creators in the space (and it'll only set them back around $16 per month, which feels more than worth it).
4. Aniahah Orlando
Aniaha's portfolio is the perfect example of what you can do on Canva. It's created using this template — Beige Gold Brown Warm Neutral Portfolio — and hosted on Canva, so there are no associated domain costs.
There's not too much to say on it: it's clear, it's concise and it gets straight to the point. Aniaha is new to the world of UGC, so may not have the client testimonials or stats to hammer home his effectiveness just yet, so he allows his examples to do the talking, with just a note on the brand name. The reason this portfolio makes the list is because it does just enough. UGC is a business, and when you're trying to land UGC brand deals, less is often more.
His rates are clear and he has a contact email. What more could you need for a beginner portfolio?
5. DKC Content
DKC Content, the portfolio created by Diana, a UGC creator from Texas, is a breath of fresh air in an otherwise repetitive space.
Built on Squarespace, Diana has approached her portfolio very much like a website, rather than a scrollable file. The advantages? It seems professional, it's aesthetically pleasing and she has more control over the user journey. It's a great platform for showing her previous work in a larger format, and the 'Meet The Team' page is a great way to show personality when working with pets.
There are some easy adjustments that could make this an incredible portfolio. These include updating the user flow to make it easier to take brands through the process, adding a contact me form to the rates page to reduce potential friction and adding some feedback from brands. Do that, and you've got a beautiful portfolio that can also convert.
Squarespace is one of the easiest platforms to build a really good looking portfolio on. It'll set you back $16 per month, but gives you a lot of freedom to create something that can convert. Take a free trial and see how you get on.
6. Malyssa Molina
Malyssa's portfolio was built on Canva, but you might not notice at first glance. She's replaced the Canva logo with a custom favicon, her own domain and removed any reference to 'built on Canva'. This gives you all of the benefits of the easy web builder, but none of the negative associations that unfortunately come with using Canva for your portfolio.
Her about me is concise (potentially could be conciser) but covers what she can offer brands. She sets out to 'Create high quality, organic, and captivating content to build trust with your audience and enhance revenue growth.'
And then we're on to portfolio examples and testimonials. It's clear, it's not too overbearing and as a brand owner you can easily get a feel for what she could do for your brand.
Many creators go extremely light on the info on the rates slide, for example, Liam's which simply includes a figure. Malyssa is on the other end of the spectrum, and this isn't a bad thing. It's just another way to display your rates and potentially cut down on the back and forth in emails.
7. The UGC Boy
UGC Portfolio: The UGC Boy
by The UGC Club
Santiago's portfolio will be love or hate. There are aspects I absolutely love, and others that I'm not quite as head over heels for. It's hard to deny the obvious good points in the portfolio: an overall simple layout: about, videos, pricing and connect. The aesthetic is heavy on emojis but in a way that really works and he's split his content examples into organic and paid which is helpful for brands who are looking for a specific thing.
His rates are really informative, they explain exactly what a brand will get down to the video length, resolution and formatting. Some would argue potentially too informative? The only downside to this portfolio is how copy heavy it is in the final slides. It's missing some white space.
8. Juliana Castellar
Juliana's portfolio may potentially be my favourite. In fact, no, it is my favourite. Creating authentic and converting content for your brand. It's a really sleek and simple design, which offers a perfect example of how to integrate what is UGC and about me sections really well. A pet peeve of mine, is condescending sections that spoon feed brands definitions of user generated content. Brands know what UGC is, what they might not know, is what it can do for them. Juliana hits this nail on the head.
92% of customers are looking for reviews and recommendations before buying. Adding UGC to your strategy will help you establish authenticity and relatability with your target audience, creating a sense of community and social proof. 87% of brands already use UGC to share authentic content with their customers. What are you waiting for?
She also has an about me section that is brought to life with a concise and direct video.
Her portfolio content is displayed in a clear and concise way, and she has a separate page for rates/services. This is a great option for creators who aren't sure whether or not to include rates in their portfolio. They don't take away from the portfolio, and I'm sure many brands jump to emails straight away, so she has a clean slate for negotiations anyway.
The portfolio is built on Wix, an easy builder that gives a professional finish. How much will it set you back? $17 per month. Do-able, right? Give it a go here.
What do good UGC portfolios have in common?
We've covered our favorite UGC portfolio's, and it's clear to see some common takeaways.
Not Canva: They don't look like Canva portfolio's. The best UGC portfolio's stand out. They don't look like typical Canva portfolio's. That's not a dig at Canva — 3 of the 8 scroll stopping UGC portfolio's on this list were created using Canva, but they were done so in a way that looks sleek, professional, and like the creator can bring value to a brand.
Value Focused: Before ever introducing themselves, the creators on the list introduce what they offer the brand. Throughout the portfolio's, they bring it back to what they can offer the brand.
Minimal Imagery: Every inch on your portfolio is valuable real estate. If it's not selling you, or what you can do, does it need to be there. If there is something many creators get wrong, it's UGC imagery. Ask yourself this. How many deals have you secured for UGC imagery? Now, ask yourself how much real estate you're giving it in your portfolio. If 25% of your income isn't coming from your imagery, does it really need an entire page?
No About Me: Brands don't actually care about you. They care about what you can do for them. Take a leaf out of the above portfolio's book and make it about the brand.
Own Domain: They own their own domains. You might not want to hear this. UGC is a business, a business requires a little bit of investment, whether that be time or investment. A domain will cost you $10 for a year. Get a domain name and fake it till you make it.
If you're looking to create a scroll stopping UGC portfolio, we have a free UGC portfolio template to get you off the ground. Remember, it's a competitive space and you need to stand out from the outset. Invest the time and the money into creating a good UGC portfolio, and it'll pay off in dividends.