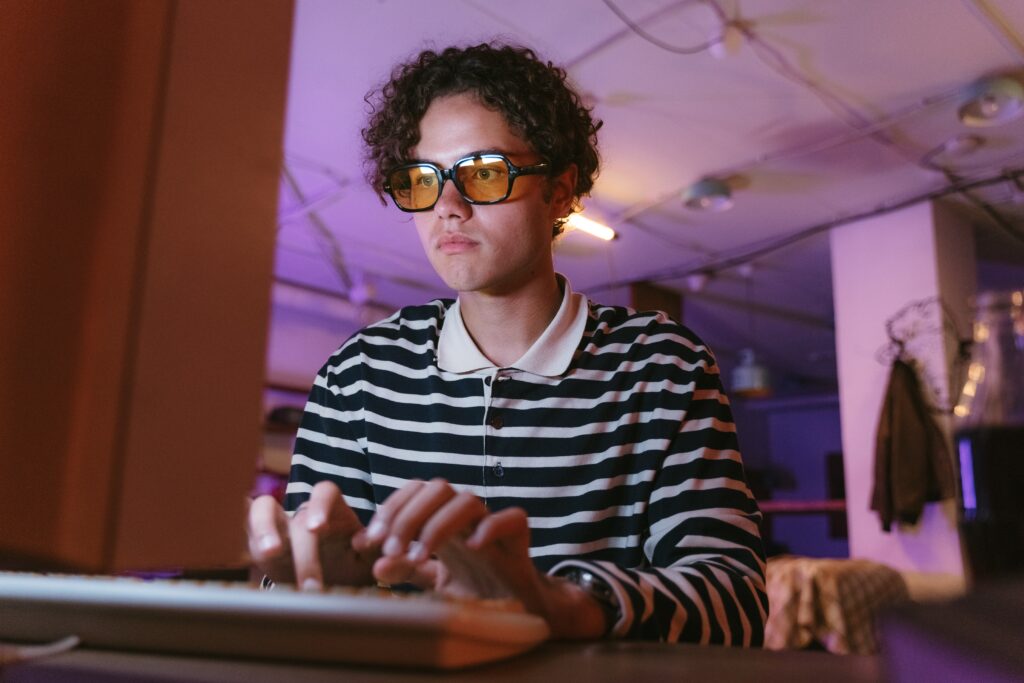 The world of user generated content (UGC) can be a ludicrous industry for creators, once you know where to look. However, for aspiring UGC creators, knowing where to find UGC work can be overwhelming.
From inbounds, to outbounds, to platforms and presences — there's so many opportunities, and so little time.
That is why we have created a comprehensive guide to the best UGC platforms to work with brands. From Join Brands to hashtagPaid and everything in between, we're giving the run down on the best places to find UGC brand deals.
Let's dive in.
Where to find work as a UGC creator
If you're a UGC creator, there are a whole host of ways that you can get work. These include:
Inbound: Inbound refers to cases where brands or companies approach UGC creators directly. They may reach out to creators based on their social media presence, or reputation — almost always as a result of the creator's visibility.
Outbound: Outbound involves UGC creators actively seeking job opportunities themselves. They can proactively reach out to brands, agencies, or companies offering their services. This approach requires a compelling pitch and a portfolio that showcases their skills.
UGC Agencies: UGC agencies are specialized firms that connect UGC creators with brands and facilitate collaborations. These agencies typically have a network of UGC creators and established relationships with brands. The agency acts as a mediator, negotiating deals, managing contracts, and ensuring a smooth collaboration process between creators and brands.
The fourth option is UGC platforms.
UGC platforms are online platforms or marketplaces dedicated to connecting UGC creators with brands. These platforms provide a space where brands can discover UGC creators, review their work, and engage in collaborations.
UGC creators can create profiles, showcase their content, and connect with potential clients through these platforms. Most UGC platforms handle payment and provide additional resources for creators.
Best Platforms For UGC Creators
When we say platform, we essentially mean anywhere that facilitates work with brands.
This might be paid collaborations, gifted jobs or just somewhere to connect — but we're factoring in anywhere that gives you a leg up when looking for paid work.
These aren't in any particular order, but offer a great place to start if you're looking to start finding work as a UGC creator.
hashtagPaid
#paid shies away from traditional models of influencer marketing. Or so it says. It was one of the first platforms to target campaigns for different sections of the sales funnel.
As with many influencer marketplaces, brands can use #paid to create campaign briefs describing campaign goals, the scope of desired content, and a little about the ideal creator.
Brands can also use Whitelisted Ads, where they whitelist specific creators and content for use with paid Facebook and Instagram ads. The app easily allows brands to connect their Facebook Ads Manager to your handle and push ads into timelines and feeds under your account.
To apply for a brand campaign, you'll "raise" their hand to indicate interest. You'll then write a message describing why you're a good fit for a campaign, and what your approach would be.
✅ Pros: One of the highest paying platforms, no minimums
❌ Cons: Opportunities are scarce (1-2 per week)
🛍️ Examples of brands: Sephora, IKEA, Phillips
Brand Meets Creators
Brand Meets Creators is the least fancy platform on the list, in fact, I'd go as far to say it's not a platform at all. And yet, it's without a doubt one of my favourites. Brand Meets Creators is a weekly email newsletter that sends brand deals sent directly to your inbox. You'll then apply for them using a Google form and bob's your uncle, wait for the brand to choose you. 
Not to sugar coat it, it can be competitive as hell, but you're talking 15-20 potential deals that land in your inbox at 8am on a Thursday morning.
Get there first, and you never know. You're not going to find 'SONY' or 'Loreal' hanging out in the newsletter, but you are going to find some great startups and D2C brands which arguably have better budget's available for UGC style content.
✅ Pros: No barrier to entry, jobs come to you
❌ Cons: No big brands, can be competitive
🛍️ Examples of brands: Happy Llama Tech, Grand Welcome
Trend.io
Trend.io is a platform that connects user-generated content (UGC) creators with brands that are looking to collaborate.
For UGC creators, Trend.io offers a way to monetize their content and collaborate with brands that they are genuinely interested in. UGC creators can set their own rates and accept or decline collaboration offers based on their preferences.
Trend.io also provides a range of tools and resources to help UGC creators improve their content and grow their following.
✅ Pros: One of the highest paying platforms, no minimums
❌ Cons: Opportunities are scarce (1-2 per week)
🛍️ Examples of brands: Sephora, IKEA, Phillips
Aspire.io
Aspire.IO started as a traditional influencer platform, but has now expanded to include UGC as a platform option.
Although anybody can sign up to Aspire, you'll have to meet criteria to be able to view campaigns. You'll need 2,500 Instagram followers and a minimum of 350 average likes/post or 1,000 TikTok views to be considered an 'influencer'.
Any creator that meets the criteria (and passes a manual review to ensure posted content is suitable) gets entered into Aspire.io's searchable database and is, in turn, able to see brand jobs.
I will say, there are a lot more deals available to apply for if you have a larger following as you can fit into the micro-influencer niche as well as UGC, but it's still worth setting up an account. There are a lot of gifted, brand ambassador campaigns, but there are also a lot of
high paying paid deals (which thankfully pay out within 8 days). To send a proposal, you'll enter your fee, and then attach a written pitch.
✅ Pros: Easy to start conversations with brands, great for gifted collaborations
❌ Cons: Minimum criteria to join
🛍️ Examples of brands: Loreal, Hoover, Vichy Laboratories, Lancome, Coco & Eve
Insense
Insense is an app — don't worry, it's reputable — that is partnered with all of the big social media players. In their own words: 'Insense is an industry game changer. Just imagine a place where brands meet creators and they come together to product awesome content for the world.' Once in, you'll be able to apply to various jobs on the explore page.
You can apply for jobs in various categories:
UGC only: no posting on your own so
UGC + paid posting: leverage your organic reach
Influencer whitelisting: the brand will run high quality ads through your social media account
To apply, you'll send a video to the brand that pitches your services, but it doesn't need to be anything too in depth. It can go quiet at times, but stick with it. It's also common for brands to request you to buy the product and then reimburse you, this feels a little fishy, but is safe. FYI: There are some you need 1000 followers on TikTok to be accepted, so you'll need to have done some work. If you just email the moderation team when you apply, let them know you are a UGC creator rather than an influencer with your portfolio, they will often just manually approve.
✅ Pros: Pay is typically higher
❌ Cons: Terms and conditions give brands rights in perpetuity (aka, for life)
🛍️ Examples of brands: Opopop, Blissy, Dots for Spots
Collabstr
Collabstr is a great place to start when you want to dip your toe in the water of paid collaborations. It's a self-serve platform — you are free to manage your own deals. Think of it as Tinder, but for UGC creators. Brands can scroll, swipe and find the best options for them for an upcoming campaign.
For me, Collabstr is a no brainer. It's essentially another place to be visible to brands, and let them come to you. How successful you are on the platform will quite frankly depend on your demographic, your niche and your quality of work. Nail them, and you're in with a great shot.
Collabstr do take a 15% cut (like most of the platforms on this list), but that's always worth factoring in.
✅ Pros: Another place to be visible
❌ Cons: You can spend a lot of time on back and forth with brands
🛍️ Examples of brands: Hopper, Click Up
Popular Pays
Popular Pays is a relatively new platform that allows brands to work with boutique or enterprise brands & get paid. Did ya hear that? Paid! Not gifted.
They do have a lot of influencer gigs, with UGC few and far between, but there are content creation jobs available, and they are well worth applying for. I have heard a few horror stories: content due in 1-2 days, 3 rounds of revisions including full reshoots and 4 minutes of raw footages for $500. But, I've also had some great experiences on the app.
If you're in the US, they have a lot of Airbnb and Hotel stays available at the moment, so it's even better if you're keen on getting into the travel space.
✅ Pros: They can take a while to get back to you on whether or not you've made it
❌ Cons: Opportunities in the travel space
🛍️ Examples of brands: Neutrogena, Getir, AngelSense, Lifesum
Join Brands
If you want to get started and just rip the band aid of your first paid project, Join Brands might be the one.
It's awash with Amazon brands and businesses with low budget, so pre-warning you'll see $5, $15, $20 etc deals on the platform. This just won't cut it for most creators, but if you're new to the industry and want to earn some $ while you practice, it could be worth a go.
✅ Pros: Lots of jobs
❌ Cons: Low fees
🛍️ Examples of brands: Sephora, IKEA, Phillips
Cohely
If something smells fishy about the name of the platform, that's because it's an incorrect spelling of coley, a sweet-tasting fish often compared to cod. Why is it misspelt? Probably because some other person has owned Coley.com since 1996, according to a WHOIS search.
Why fish? Probably because the owners like fish. Their LLC is called "Goldfish," they call their up and coming creators "Nemos," they keep an aquarium at the office, and they say they'll know they've succeeded when they install their first shark tank.
Who knew a UGC platform could like fish that much?
Cohley is a platform that helps brands source user-generated content by connecting them with a network of creators. Brands can create campaigns and invite you to participate, and creators can submit content for the chance to get paid. Cohley lays out all the campaign details so there is no confusion on what the brands are looking for, so it makes it easy to get your work done.
✅ Pros: One of the highest paying platforms, no minimums
❌ Cons: Can go quiet at times
🛍️ Examples of brands: CVS, Braun, Delonghi
Upwork/Fiverr
Fiverr and Upwork are popular online marketplace for freelance services, providing a unique opportunity for freelancers to offer UGC services to clients. This makes them a potential source of revenue if you're looking for brand work.
I won't go into too much detail here, as you're most likely aware, but they basically allow smaller brands to advertise work. Both platforms take less than a 20% cut, but deal with invoicing, protection and they bring you leads directly, so it may be worth it if you're just getting started.

Gaining clients on freelance platform is a SLOG. Don't get discouraged by the challenges you face, but keep pushing forward and learning from your experiences. You'll be a Fiverr UGC expert in no time.
✅ Pros: Daily opportunities
❌ Cons: Low paying platforms, ~dodgy~ clients, profile optimization can take a while
🛍️ Examples of brands: Independent retails, DTC brands
Collabor8
Collabor8 is an influencer marketing platform that helps brands connect with content creators and influencers.
It allows creators to showcase their work, connect with brands, and get paid for creating sponsored content.
Brands can search for and discover creators based on their audience demographics, engagement rates, and other metrics.
Backstage
Backstage is a platform that connects performers and content creators with casting professionals, producers, and directors in the entertainment industry.
It offers a range of tools and resources to help performers find auditions, submit their applications, and manage their careers. Backstage also provides casting professionals with a database of performers to search and discover talent.
It is a useful platform for actors, models, dancers, singers, and other performers who are looking for opportunities in the entertainment industry.
Now Over to You
If finding UGC platforms to leverage has held you back from using UGC for your campaign, we believe that's no longer a challenge.. you're welcome!😌

"There are so many of them, how do I choose the right one?" You don't, you choose them all and see how you get on. Happy applying!