As a UGC creator, navigating the industry solo isn't easy. The UGC industry is teeming with opportunities, but distinguishing the good from the bad can be a time drain.
What if there was someone that could do the hard part?
Enter, UGC agencies.
In our ultimate guide to UGC agencies, we're revealing the top players in the game. From established industry players to emerging platforms, we'll explore the top agencies to help you secure UGC jobs. Get ready to unlock your potential, secure the bag, and embark on a journey towards earning substantial $$$$.
What Is A UGC Agency?
A UGC agency is a specialized entity that connects UGC creators with clients seeking authentic and engaging user-generated content. These agencies act as intermediaries, facilitating collaborations and providing valuable services to both creators and clients.
UGC agencies work closely with clients to identify their specific content needs, goals, and target audience. They assist in developing creative briefs, managing project timelines, and ensuring the delivery of high-quality UGC content that aligns with the client's brand identity. The agency will then handle various aspects of project management, including contract negotiations, content approvals, and payment processing. They streamline the collaboration process, ensuring smooth communication and efficient project execution between creators and clients.
For their trouble, they'll take a cut. Agencies often maintain a diverse roster of creators with varying expertise, allowing clients to find the right fit for their specific content requirements.
Why Work With UGC Agencies?
It's easy to read 'take a cut' and go hell no. Who wants to give their hard earned cash to someone else? Work with a reputable UGC agency, and it should balance out. The 15% cut should more than be replaced thanks to the extra work they bring you and the extra time they save you.
These agencies specialize in connecting creators with clients seeking UGC services, offering unique advantages and expanding the potential for lucrative opportunities. These include:
Access to a network of clients: UGC agencies have established connections with a wide range of clients, including brands, businesses, and media companies. By partnering with an agency, you gain access to their extensive network, increasing your chances of landing high-profile UGC projects. These agencies often have existing relationships with clients who regularly seek UGC services, providing a steady stream of opportunities.
Expertise and guidance: UGC agencies possess in-depth knowledge and experience in the UGC space. They understand client expectations, market trends, and best practices for creating impactful UGC. Working with an agency allows you to tap into their expertise, benefiting from their guidance, feedback, and strategic direction. Additionally, agencies often have a dedicated support team to address any queries or concerns you may have throughout your projects.
Enhanced credibility: Being associated with a reputable UGC agency can significantly boost your credibility and reputation as a creator. Clients often trust agencies to vet and recommend talented UGC creators, so being part of their roster lends an added layer of trust and professionalism to your profile. This can make a difference when competing for high-value UGC projects.
Streamlined project management: UGC agencies handle various aspects of project management, including client communication, contract negotiations, and invoicing. By working with an agency, you can focus more on your creative work, knowing that administrative tasks are being handled efficiently. This streamlines the process and allows you to concentrate on delivering top-notch UGC content.
These are great benefits, but only come with reputable agencies that really understand the UGC industry. Research and choose reputable agencies that align with your creative goals and values.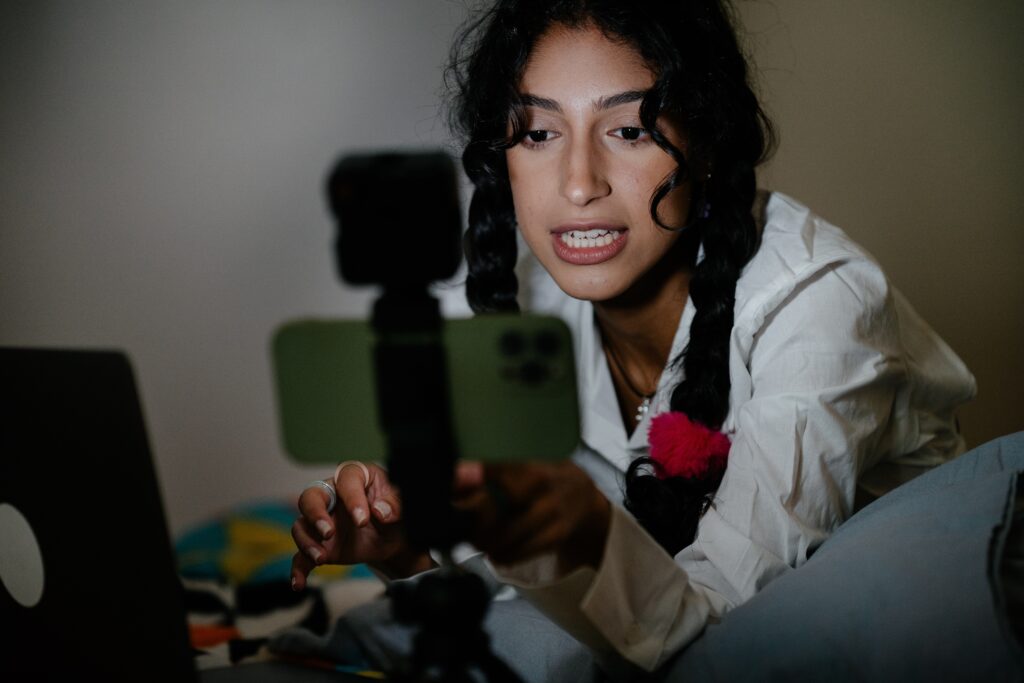 Top UGC Agencies for Creators
Lauren Labeled
Lauren Labeled is a renowned UGC agency based out of Tampa, Florida.
With a strong focus on fashion, lifestyle, and beauty niches, they have built a reputation for connecting brands with talented creators who possess a keen eye for aesthetics and storytelling.
The agency takes pride in their meticulous selection process, ensuring that their curated network of creators aligns perfectly with the brand's values and target audience. They paid out $80,000 to UGC creators in 2022, which is on the lower end of the scale in terms of agency, but with clients such TruSkin and Modular Closets, they could be the perfect agency for someone looking for work in the beauty/fashion niche.
Lauren Labeled have explicitly said that they look for: videos of creators talking on camera to see how genuine and excited they sound, understanding of light and aesthetics, attention to detail and deadlines and a full portfolio of videos. Why not apply now?
AdTok
AdTok has a vibrant community of 500+creators to produce engaging and viral video campaigns.
Their expertise lies in leveraging the popularity of platforms like TikTok to create authentic and impactful UGC content that resonates with audiences. AdTok's innovative approach and emphasis on creativity enable brands to reach new heights by connecting with the younger demographic and staying ahead of digital marketing trends.
With AdTok, brands can tap into the immense potential of short-form video UGC to amplify their reach, drive brand awareness, and engage with a highly active and influential online community.
Adcrate
Adcrate is an agency that excels in delivering innovative and impactful advertising campaigns through user-generated content.
Their data-driven approach ensures that the UGC campaigns resonate with the target audience, driving meaningful interactions and conversions. Adcrate's expertise lies in harnessing the power of user-generated content to create memorable brand experiences that leave a lasting impression.
With their strategic insights and creative solutions, Adcrate helps brands connect with their customers on a deeper level, fostering brand loyalty and driving business growth.
Fireteam.is
Fireteam.is specialize in gaming and esports content creation.
With a deep passion for the gaming industry, Fireteam.is connects brands with skilled gamers and content creators to develop captivating UGC campaigns that resonate with gaming enthusiasts. They understand the unique culture and trends within the gaming community, allowing them to create authentic and engaging content that connects brands with their target audience. Fireteam.is offers a range of services, including influencer collaborations, live streaming campaigns, and tournament sponsorships.
By harnessing the power of UGC in the gaming space, Fireteam.is helps brands level up their marketing strategies, build brand loyalty, and establish a strong presence in the competitive gaming industry.
Join Palm
Join Palm is a UGC agency that aims to make it easier for brands and creators to work together. They have a flexible influencer management platform that keeps campaigns and UGC projects organized all in one place.
Creator Application Requirements:
Highly active feeds (min. 1 post per week consistently for the past 3-4+ months)
Visible experience posting content with products, and/or brand partnerships
Strong/well-lit/well-composed photos or videos
Looking to continuing growing their creator presence on a professional level
The UGC Shop
The UGC Shop is a dedicated UGC agency that showcases the work of carefully selected content creators known for their beauty, talent, and ability to create exceptional content. These creators are real, everyday individuals who possess a genuine passion for trying out products, offering thoughtful reviews, and spreading positive word-of-mouth.
The utmost priority at "The UGC Shop" is authenticity, ensuring that all content is 100% real and genuine. No prior professional experience or specific requirements are necessary to join as a UGC creator. The platform welcomes anyone with a passion for content creation, encouraging them to experiment with platforms like TikTok and editing apps.
To support creators, "The UGC Shop" offers abundant resources, informative blog posts, and engaging creator workshops, allowing them to elevate their creation skills and excel in their creative endeavors.
Social Native
Social Native is a leading UGC agency that has a focus on authenticity and high-quality content, Social Native empowers brands to harness the power of user-generated content across various marketing channels.
Their platform provides a seamless experience for brands to launch UGC campaigns, engage with creators, and amplify their brand messaging. Social Native's data-driven approach ensures that brands can identify the right creators who align with their target audience and brand values.
By leveraging Social Native's expertise and technology, brands can tap into the creativity and influence of content creators, resulting in impactful UGC campaigns that drive brand awareness, engagement, and conversions.
InBeat
InBeat is like the Kim K of UGC agencies. Think New Balance, Disney, Nordstrum and 7-eleven. We're talking big players.
By leveraging advanced technology and analytics, InBeat identifies the most relevant and effective influencers to amplify brand messaging and reach target audiences. InBeat's platform streamlines the collaboration process, allowing brands to manage campaigns, track performance, and measure ROI.
Through their extensive network of creators, InBeat helps brands harness the power of UGC to build brand awareness, drive engagement, and create authentic connections with consumers.
NeoReach
NeoReach is a leading UGC agency that empowers content creators with opportunities to collaborate with top brands and monetize their influence.
With a focus on UGC creators, NeoReach provides a platform that connects them with relevant brand partnerships and sponsorship opportunities. By leveraging their extensive network of brands, NeoReach enables UGC creators to expand their reach, increase their exposure, and generate revenue from their creative content.
With advanced campaign management tools and analytics, NeoReach helps UGC creators streamline collaborations, track performance, and showcase their value to brands.
By partnering with NeoReach, UGC creators gain access to a wide range of brands and campaigns, enabling them to thrive in their creative endeavors and monetize their influence in the digital landscape.
The Influencer Marketing Factory
The Influencer Marketing Factory is a leading UGC agency that specializes in influencer marketing campaigns and content creation. With a focus on driving results and delivering exceptional brand collaborations, The Influencer Marketing Factory connects brands with top-tier content creators across various social media platforms.
Their dedicated team of experts provides end-to-end campaign management, from influencer selection and creative strategy to performance tracking and optimization. The Influencer Marketing Factory leverages their industry expertise and extensive network of influencers to create authentic and engaging UGC campaigns that resonate with audiences.
By partnering with The Influencer Marketing Factory, UGC creators gain access to exciting brand collaborations, professional support, and the opportunity to showcase their creativity while building their personal brand.
yellowHEAD
yellowHEAD is a digital marketing agency that specializes in performance-driven campaigns. With a strong focus on data-driven strategies, yellowHEAD enables UGC creators to unlock their full potential and achieve impactful results.
Their comprehensive range of services includes influencer marketing, app store optimization, and paid media advertising. Backed by a team of experienced professionals, yellowHEAD supports UGC creators throughout the entire campaign process, from ideation to execution, and offers valuable insights and optimization techniques. By leveraging yellowHEAD's expertise in user acquisition and engagement, UGC creators can effectively grow their audience, enhance their visibility, and successfully monetize their content.
With yellowHEAD as a trusted partner, UGC creators can navigate the competitive digital landscape and achieve their goals with confidence.
Glide Agency
Glide Agency is a UGC agency that specializes in creating captivating digital campaigns through the power of user-generated content. With a focus on harnessing the creativity of content creators, Glide Agency connects brands with talented individuals who have a knack for producing engaging and authentic content. The agency understands the value of UGC in driving brand awareness and consumer engagement. By leveraging Glide Agency's expertise, brands can tap into the vast potential of UGC to amplify their messaging, connect with their target audience, and generate meaningful results.
Glide Agency's commitment to delivering innovative UGC campaigns and their dedication to building strong partnerships with content creators make them a trusted choice for brands seeking to make a lasting impact in the digital space.
Lastnight Media
Lastnight Media is a dynamic UGC agency that specializes in creating memorable and impactful campaigns through the collaboration of content creators. With a focus on leveraging UGC, Lastnight Media connects brands with talented creators who possess a passion for producing captivating content. The agency understands the power of authentic storytelling and aims to create meaningful connections between brands and their audiences.
Lastnight Media's expertise lies in curating engaging UGC campaigns that resonate with consumers, driving brand awareness and fostering brand loyalty.
Through their innovative strategies and partnerships with talented content creators, Lastnight Media enables brands to harness the creative potential of UGC and create experiences that leave a lasting impression.
Crafted
Choose Crafted is a prominent UGC agency that specializes in connecting brands with talented content creators. Based in Australia, they do work with creators all over the world, with a focus on delivering exceptional UGC campaigns. Have you seen those Paperlike ads? I certainly have. Crafted. The agency carefully selects creators who possess a knack for crafting compelling content that resonates with audiences. Crafted values authenticity, ensuring that all content produced is genuine and true to the creators' unique voice.
Crafted's expertise in UGC campaigns and their dedication to fostering authentic creator-brand collaborations make them a trusted partner for brands looking to elevate their marketing strategies and make a lasting impact in the digital landscape.