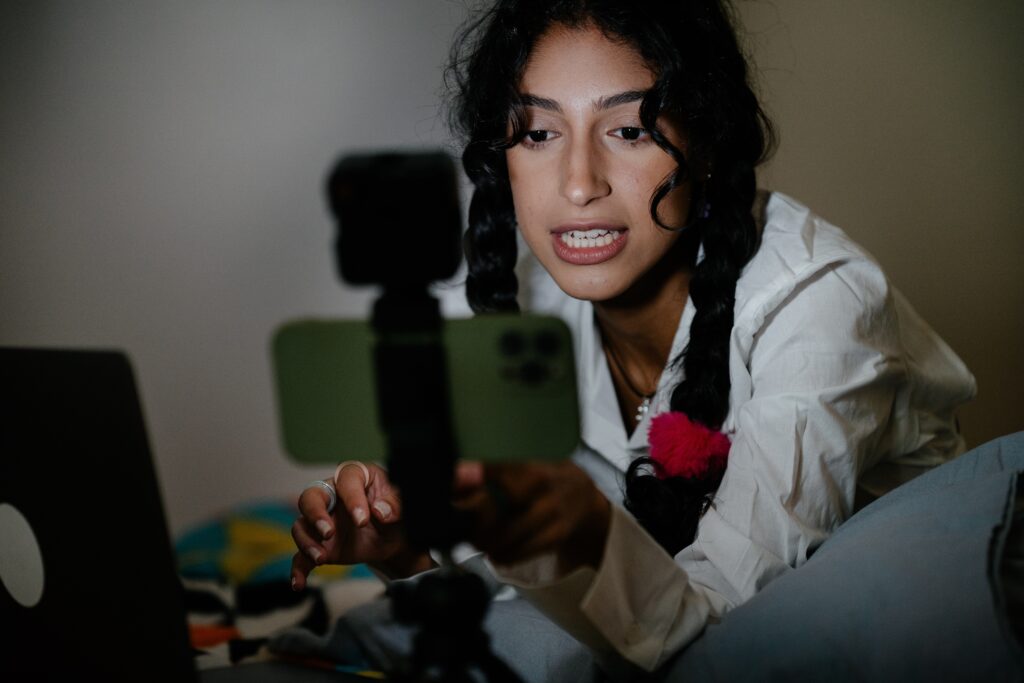 In the competitive landscape of user-generated content (UGC), finding an agency to represent you can feel like having a powerful ally in your corner.
They can offer unrivaled guidance, expertise, job opportunities, and most importantly, protection from unscrupulous individuals seeking to exploit new creators in an emerging industry.
But what if the very agency you trusted turned out to be the ones screwing you over?
That's exactly what happened to Jenna Libman, a UGC content creator from Tampa. Today, we're talking about a darker side of the UGC industry, the reality of dodgy UGC agencies (and the red flags to look out for).
How Did Jenna Get Screwed Over by Her UGC Agency?
Back in October 2022, Staton Pierce, the owner of Poseidon Group, approached Jenna on Twitter, asking for 3 UGC videos for $300 for a brand called Koukla.
As a newer creator, Jenna was happy to go ahead with this.
This price did not include whitelisting or posting to her own platform – as standard, UGC base rates don't include this, and this would be an add on for brands at an extra cost. This is normal practice across the industry.
The agency owner was over the moon, in fact, exact quote "These are exactly what we are looking for!! You did an awesome job! I didn't even know what snatch meant until now. Do you think these would do good on your own accounts?".
Jenna explained she had a solid community that would like the content, and gave her rates for posting on her account and whitelisting. Two weeks later, Staton comes back, and he is not happy.
He tells Jenna that when he sent over her rates to the brand owner, she was pretty upset. In fact, they felt the 20% advertising cost and $150 charge for posting on her own account was down-right aggressive. Because of this, the owner decided to go in a different directors. No hard feelings, he told Jenna.
But here's the thing.
Jenna had signed a contract with the brand for UGC content. Not whitelisting. Not posting on her account. UGC content, which the agency thought she aced. Jenna's contract specified that the brand would pay her 50% if the content was created but not used, 100% if it was used. Now, both the brand and the agency were deciding not to honour that contract.
The agency owner was putting the liability on the brand owner for terminating the contract without reason, but also wiping his hands clean with the situation.
His words: "Here at Poseidon Group, we are our own entity that acts a intemediary to the brand. Any communications that were between us, is between the Poseidon group and the content creator. The KOUKLA contract is whenever the next step has been made and the creator works directly with the brand."
Sorry, what?!
Jenna Wasn't The Only Creator To Be Screwed Over
It turns out, this wasn't a one off. Multiple creators came forward with the exact same experience.
Multiple creators are getting the exact same copy and pasted messages that I got from him. Some, weren't as fortunate as Jenna, who had sent her work with watermarks.
Frankie was also a victim of the Poseidon's groups dodgy dealings. As with Jenna, Staton reached out to her and asked for her rates. She told him $150 for one video, he asked for two for $250 and it was a done deal. At this point, she confirmed usage rights: these are for organic use only, no whitelisting, no ads – a very basic package.
She delivered the content and he was over the moon. So much so, he asked for her rates for whitelisting and raw footage. Sound familiar?…
This is where it gets fishy. A copy and paste email. The exact same as Jenna. The owner was upset. The rates were aggressive. No hard feelings.
Flabbergasted by the situation, various creators sought to reach out to the brand, convinced the owner would also be in the dark about this.
This sounded like a slimy agency owner out to make as much quick cash as he could.
A quick search on LinkedIn, and suddenly, the plot thickens.
The brand owner is none other than Staton's wife. Jaw is on the floor.
💡 Fun fact: Poseidon Group is no more. They've changed their Linkedin profile name to Institute for Ai Transformation and are now specializing in delivering innovative, data-driven solutions tailored to each client's unique challenges and opportunities. Talk about a 180.
What Can We Learn From This?
Always watermark your work: Jena's unfortunate experience highlights the importance of protecting your content. By watermarking your content, you can at least deter unauthorized use or manipulation should things go south.
Ensure agencies are reputable: Research and due diligence are crucial when working with an agency. Look for reviews, testimonials, and a proven track record of success. No track record, no work without upfront payment.
Communicate usage rights in the initial conversation: Don't underestimate the significance of discussing UGC usage rights from the very beginning. Clearly outline your expectations and you are on the same page regarding the scope of usage, licensing, and additional rates. This can help avoid potential exploitation down the line.
In a fast-paced and evolving industry, it's essential to protect yourself as a UGC creator. Knowledge is power, and by learning from stories like Jena's, we can strive for a fair and supportive environment for all creators.