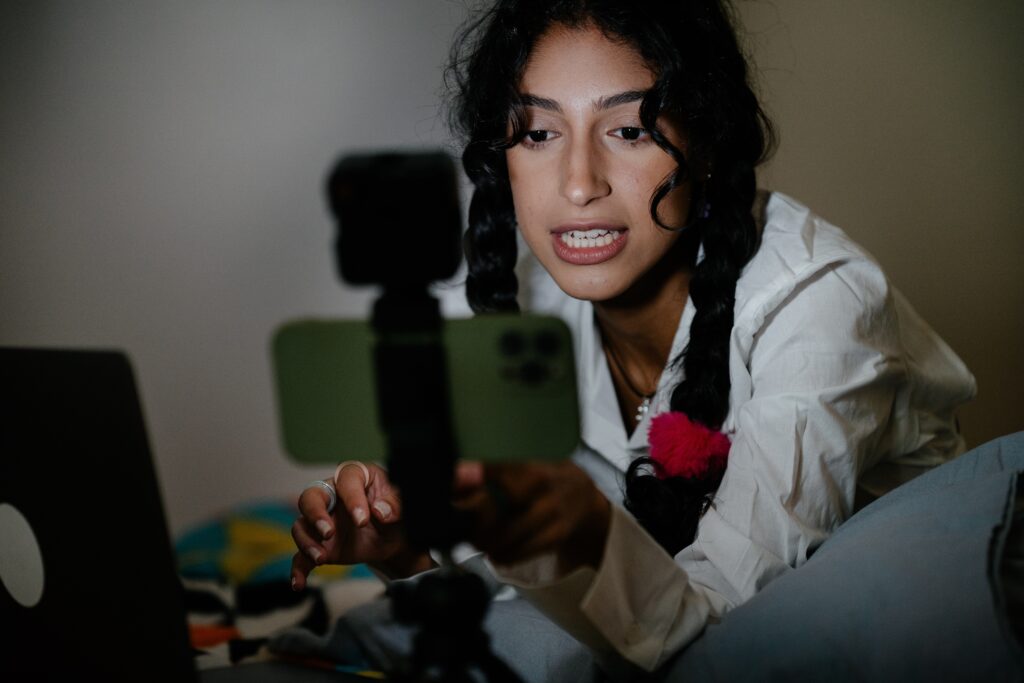 The cat's out of the bag: TikTok's latest creator monetization program is the TikTok Creative Challenge, an exclusive UGC program that pays creators to create ads for brands. And it's a doozy.
According to a source, creators are making up to $34,000 a month by producing UGC for brands like Uber Eats, Alibaba and TikTok. In fact, "creators are buying houses with the amount of money they're making," the TikToker revealed.
But what is the Creative Challenge? And more importantly how can you get in on it?
What is the TikTok Creative Challenge?
Creators in the program are presented with a selection of brand briefs (aka "challenges") hosted in a private section of TikTok.
They can review and respond to these briefs, and then post UGC videos that meet the guidelines directly in the app's Creative Challenge section. No posting to your own profile required, just straight to the brands. Once your video gets approved, the brand will release your video as an in-feed ad on TikTok, and you'll receive cash rewards based on your ad performance. You'll then redeem rewards through Discord (strange, but legit apparently).
Essentially, you're making free ads for the brands, and then you get paid based on how they perform.
Allegedly, creators can apply for up to 10 campaigns per week. And we're not talking small campaigns. Brands include Uber Eats, Zynga, Alibaba, and even TikTok itself – we're talking the big players.
The Creative Challenge is currently still in beta testing, and very little is known about the program. We do know that when you submit an ad you're giving away full usage rights, which in the world of UGC is generally a big no-no. The only information available online is an advertiser terms of service, which outlines the rules of participating in the program.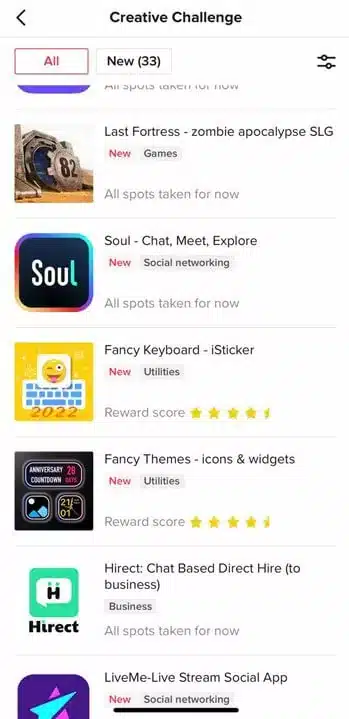 Who's eligible for the TikTok Creative Challenge?
Right now, the Creative Challenge is available through invite-only. And it seems incredibly exclusive: the current beta program has just around 400 participants. However, they do seem to have recently updated their challenge page with requirements and an audition link.
Requirements:
Must have 50k followers on TikTok
Must be US creator
Age 18+
The program sounds like a more exclusive — and potentially lucrative — version of TikTok's Creator Marketplace. Or a variation of TikTok's Creativity Program Beta, which was announced in February. That invite-only program was meant to address some of the criticism about the low payouts of TikTok's Creator Fund.
Want to know more about the program's eligibility? We suggest keeping an ear to the ground for an official announcement about the Creative Challenge from TikTok.
How much does the TikTok Creative Challenge Pay?
Short answer, is that it varies. A lot. Every campaign gives a different pay rate.
A source revealed that some creators are making up to $34,000 per month from the Creative Challenge, adding, "creators are buying houses with the amount of money they're making from UGC." Get that bag, girls.
Here's just how much — and how exactly — creators get paid through the Creative Challenge. Payment from the program is based on the ad spend for up to six months. The program also provides bonuses for reaching certain milestones in performance.
Earnings in the beta programme range from $22,000 to $34,000 per month, with bonuses ranging from $200 to $6,000.
Bonus rules include:
Newcomer bonus: earn a $20 bonus for your first approved submission
Guaranteed bonus: earn a $200 bonus if you have at least 4 submissions that generate $10 or more in rewards respectively in a single month.
Breakthrough bonus: earn a $300 bonus if you have 1 submission that generates $300 or more in rewards within the first 30 days.
Creative master bonus: earn a $100 bonus if your submission generates $1000 or more in rewards within the first 30 days of submission. You may redeem this unlimited number of times each month.
It's important to note that the Creative Challenge doesn't guarantee payment upfront, according to its advertiser terms of service, which describes payment terms as "determined according to a revenue share/earnings schedule on each creative challenge."
Want to join the TikTok Creative Challenge?
Overall, the Creative Challenge looks like it could be incredibly lucrative for TikTok creators, especially for content they don't need to post on their own profile.
The payment structure does require a leap of faith since there's no guaranteed payment upfront, but if TikTok can scale the program, playing agency matchmaker between eligible brands and talented creators, it could create a sustainable revenue model for creators.
The Creative Challenge also gives creators the opportunity to monetize their content creation skills, rather than their audience. Sold? Audition for the Creative Challenge now. This is one program you won't want to miss out on.