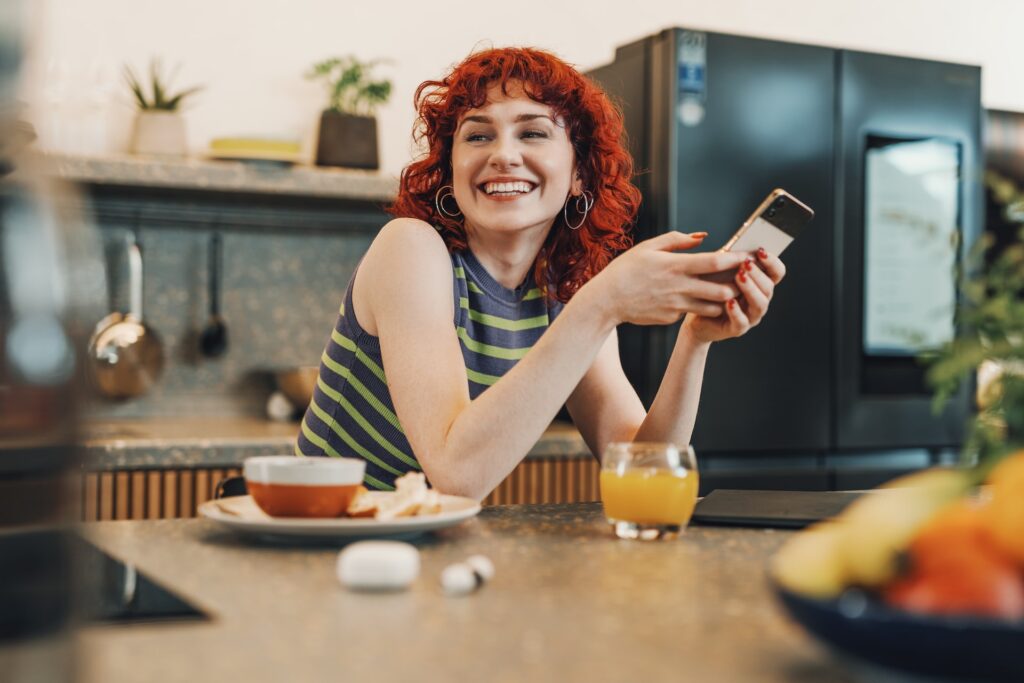 If you are a UGC creator, you might have come across the term Stan Store.
Apparently, it's an all-in-one UGC creator store that can sky-rocket your income. If you're listening to the big dogs on TikTok, you NEED one as a UGC creator. Me, I'm not so sure.
Stan may have stolen the hearts of hundreds of thousands of creators – but what exactly is a Stan store and is it worth it?
What is a Stan Store?
Put simply, a Stan Store is a platform that allows you to turn your 'link-in-bio' menu into an easy-to-use digital shopfront that converts the eyes on your social media into customers.
Stan was created by John Hu, a TikTok creator who became frustrated at the lack of ways to monetize his following if he didn't sell out to big brands.
Hu wanted to change that. He wanted to create a platform that would make it super simple to make money online (without the silly high fees, Etsy we're looking at you). And so Stan Store was born.
With Stan, creators can create a personalized store, customize their branding, and promote their offerings to a wider audience. A one-stop-shop if you will, a unified solution where creators can host their products and manage transactions.
Now, I know what you're thinking. I don't sell products as a UGC creator, what would I use it for?
Do I Need a Stan Store for UGC?
Short answer, no. But there are some instances where it's useful.
First and foremost, are you actually using the social platforms where you would be linking your Stan store. A Stan store won't increase your inbounds, it'll potentially just remove the friction for brands looking to buy a quick package, or get to your portfolio quickly. If you're not driving people to that link in the first place, it won't make the slightest bit of difference.
However, once you've got some eyes on that bio, here's where a UGC stan store can come in handy:
💰 Monetizing Your Knowledge
UGC can be lucrative, but selling your UGC knowledge can be even more so. There's a reason your favourite creators are selling guides like they are going out of fashion. A Stan store provides an easy way to do this (and with 0% sales tax, something unheard of in the world of eCommerce). Now, you don't need to be a five figure UGC creator to do this, you just need to find a knowledge gap in the market that you can fill.
🚀 CTA For Potential Clients
One of the benefits of a Stan store is removing friction. If potential clients have discovered you on TikTok, they might not need to visit your portfolio, scroll through to find an email address and get in touch with you. If you've optimized your profiles and have created content that hits that sweet spot for brand owners or decision makers at larger companies, they might be ready to get going straight away. In which case, a direct link to book an enquiry call or fill out a form (which you can tailor to get ALL of the information you need before you start a back and forth) might be all they need to work with you.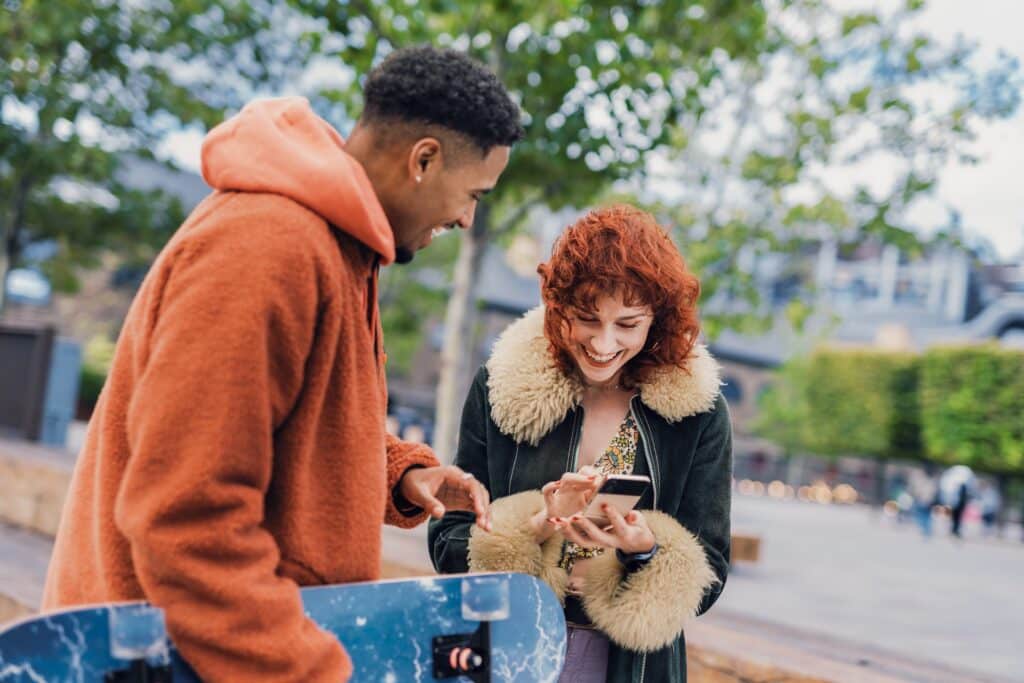 🛒 Selling UGC Packages
By nature, UGC generally requires a little bit of back and forth, and it's rare that brands will be happy to just purchase a package without that first. It's also safer to go via email to give you a chance to get a UGC contract in place before starting work.
However, including packages in your Stan store can be a great way for repeat clients who trust your work and delivery to check out and secure a quick deal. A lot of creators offer a 'holiday bundle' in their stores ahead of key dates that brands can take advantage of. Failing that, you can link to your portfolio in a really nice way.
✉️ Building An Email List
We've all heard the rumours: TikTok might be banned, Instagram reach is dying off and Twitter just wants you to pay for everything these days. If you're relying on social media inbounds to get work, you might be in for a rude awakening in years to come. By building an email list, you can take control of your own marketing and sales efforts. This can be a slower burner if you're building a list of brand owners/professionals rather than fellow UGC creators, but can be well worth doing.
💸 Passive Income
If you have an engaged following on TikTok or Instagram, you can utilize your Stan to share multiple affiliate links. For influencers, this is a sure fire way to earn $$$ on the side, without any extra work. For UGC creators – this can also be lucrative. You'll find a lot of creators who target other UGC creators sharing the Brands Meets Creators newsletter in their bio. They'll sell it as 'get UGC jobs straight into your inbox every Thursday' or 'my favourite way to find work' – but they're missing out the part where they get $1 for every user that signs up. Don't sleep on affiliate links, you'd be surprised at how well you can do with them as a UGC creator.
It's easy to use in the backend, even for non-techy people, but it's also easy for potential customers to use. Rather than a clunky invoice or enquiry process, everything can be done in the one place. If you're not yet ready to create a website for your UGC business, this all-in-one platform can do the leg work.
It also has a customisable storefront with various designs and custom brand colours, as well as 6 months of analytics data in the backend. If you're serious about your social presence and maximising inbounds, it's a great way to see what and when your content is working for you.
❌ Reality check. The reason that creators are telling you you NEED a Stan store is because it comes with an attractive affiliate scheme. Don't get me wrong, it's good, but don't believe everything these creators are telling you. Be smart folks and think about whether or not it's worth it for you.
How To Set Up Your Stan Store As a UGC Creator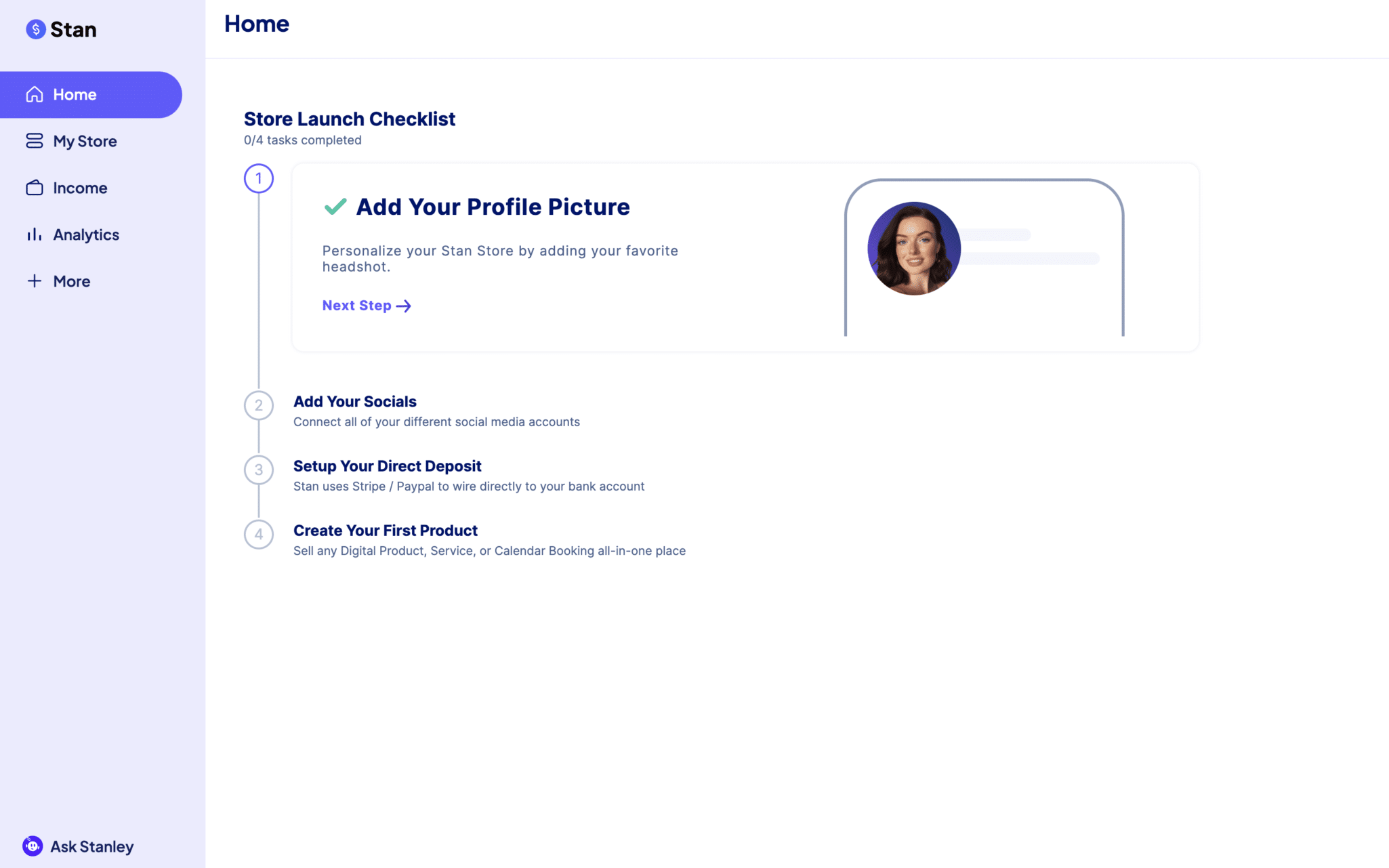 If you've got a spare 10 minutes, you can set up a Stan store. HALLELUJAH.
They also offer a free two-week trial, so there really is no risk to giving it a go. When you create your store you'll have the option to add a profile picture, your socials, your payment info and your first product (or skip this part).
Once you've set up the basics, you can navigate to 'My Store,' and this is one of the most important tabs in your stand store.
And here's exactly where you're gonna set up your entire store.
Here you can change how your store looks in 'Edit Designs.' There are multiple designs for your store, I use the basic, but it's completely up to you.
You can then add your first product by heading to 'Add Product,' and get going.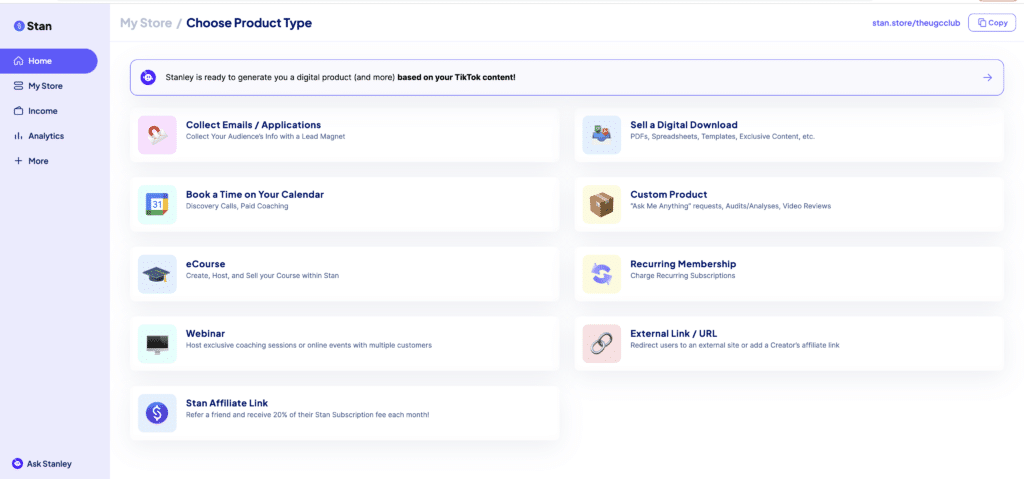 First and foremost as a UGC creator, you'll want to link to your portfolio and rates – you'll do this via This could be a digital download, booking time in your calendar or a UGG package. You can also add a discount code, limit the quantity, offer payment plans.
Now, if you ever want to remove a product, you can just click 'Unpublish' and then it disappears.
Once you're set up, you'll just add the link in the top right hand corner to your bio, and voila. A storefront.
How Much Does a Stan Store Cost?
A Stan Store costs $29 per month. It's worth noting that Stan offers a 14-day free trial for you to test out the platform before committing.
In addition to the subscription fee, you also need to consider transaction fees. Stan Store itself doesn't charge any transaction fees (compared to Etsy's 7.5%) – however it's worth noting that you will still have Stripe/Paypal transaction fees. Unfortunately, checking out with Stan doesn't let you get around these.
Stripe charges:
2.9% + $.30 per transaction
.25% + $.25 per payout
PayPal's Transaction Fees
So is it a Stan store with it as a UGC creator? Honest answer, maybe. If you have a social presence and are actively driving people to your bio anyway it's a no-brainer, but it won't sky rocket your revenue without the audience unfortunately.
Why not get a two week free trial of Stan store now and make up your own mind.