Fiverr, the popular online marketplace for freelance services, provides a unique opportunity for freelancers to offer UGC services to clients.
But what do you need to know if you want to offer UGC on Fiverr? 
In this article, we'll guide you through a few of the things you'll need to know to get started on Fiverr: including how to set up your profile, what to include in a gig and ultimately land your first client.
Discover the power of the marketplace and start building your base of UGC clients today.
How To Set Up Your Profile
Ready, steady, go.
First and foremost, you're going to already have some content ready. I know it's easy to want to jump straight in with both feet, but let's walk before we run. If you've never created a piece of UGC content before, you shouldn't be creating a profile on Fiverr. Not yet.
Create content for passion projects, or for pitches, but regardless, make sure you've got some proof of concept before you try to sell your services. This should be the content you've already got in your UGC portfolio.
Once you've had a go and are confident that what you're making is worth paying for, it's time to set up your UGC profile on Fiverr.
1. Choose a username: Set a 60 second timer to do this. Pick a username that's professional, easy to remember, and relevant to the services you offer. Waste any more than a minute on it and you're overthinking. 
📝 Example: UGCAlana
2. Craft a catchy profile title: Use a descriptive and catchy profile title that highlights your expertise and attracts potential buyers.
📝 Example: I will be your UGC TikTok, Reels, or short form video content creator
3. Write a compelling profile description: Use your profile description to showcase your skills, experience, and expertise. Be specific. Do you understand hooks? Can you increase watch time? Be sure to include relevant keywords that buyers might use to find your services. For UGC, consider UGC content, TikTok video, TikTok creator, product video, reels video, UGC creator.
📝 Example: I'm Alana, a full time UGC Content Creator and TikTok Expert from the US. I've helped over 300 brands skyrocket their reach with TikTok ads that don't feel like ads. I am highly skilled in social media videos that can sell your products and promote your brand! I'm here to help you increase your revenue with a friendly face. UGC is the new way to take your brand to the next level – are you ready? I can't wait to work with you!
4. Profile image: Don't stress this too much. Choose a happy, smiling picture in neutral clothing — face only. You want brands to feel like they know you.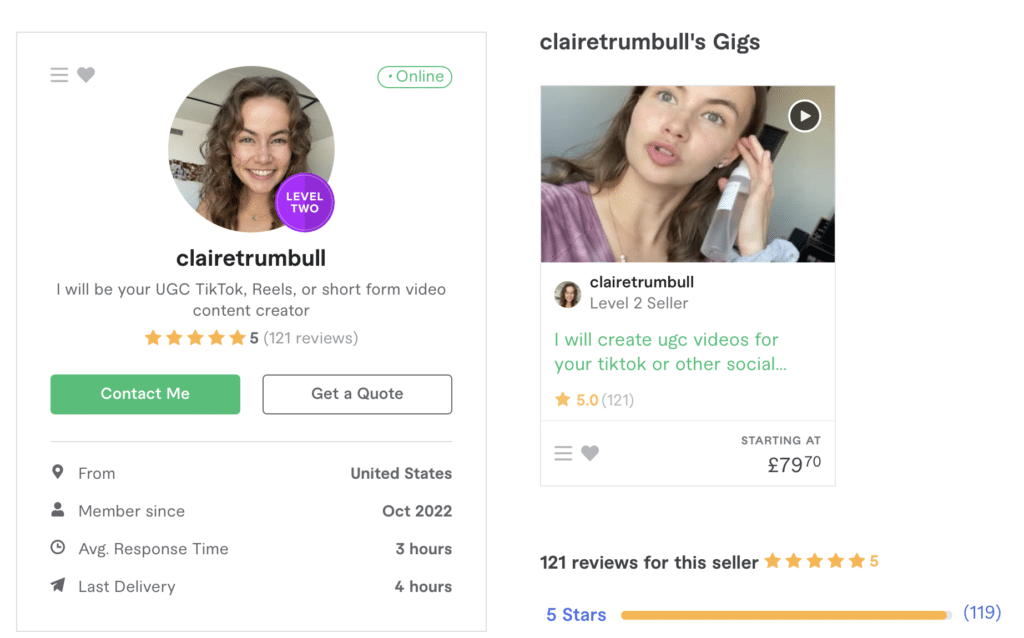 5. Portfolio: This is a non-negotiable here if you want to perform well on Fiverr. Starting out, you won't have any reviews. Upload content for the brands to get an idea of what you can produce for them.
6. Skills: Add anything here that you think is relevant, the most common are content creation, digital marketing, TikTok ads creation. The more the merrier (as long as you can deliver).
How To Set Up Your First Gig
Now that you have your profile set up on Fiverr, it's time to add your first gig.
A 'gig' on Fiverr refers to a service that a seller offers to a buyer. Essentially, it's a job or task that a freelancer is willing to do for a certain price. When a buyer is interested in a gig, they can place an order and provide instructions to the seller about what they want. The seller then completes the work and delivers it to the buyer, who can request revisions or approve the work. Once the work is approved, payment is released to the seller.
Easy, right? Here's how to do it:
Research your competition
This is the big one. Set aside a few hours to do this. Look at the top freelancers offering UGC content. What are they offering, and how much do they charge? This will help you determine how to price your services competitively. Most likely, you'll be able to undercut them if they are more expensive, but before you do that — check the lowest priced freelancers. If all you can offer is a lower price, these will be the people you are competing with. What can you do to be better than them?
Create a gig title
Use a descriptive and catchy gig title that accurately represents the service you offer. This doesn't need to be anything fancy. Think, straight to the point.
📝 Example: I will create captivating UGC TikTok video content for your brand
Write a gig description
Use the gig description to provide more information about the service you offer, including the scope of the work, the timeline, and any other details buyers need to know.
Be sure to use clear and concise language. In the description, specify if you're creating videos for TikTok or Facebook ads. These require a different set of skills and the keywords you'll use will be different. If you're interested in creating UGC for Facebook, you'll need to study up on direct response video skills.
📝Example: Hey, I'm Alana! I'm a skilled UGC creator who is passionate about creating engaging and relatable videos for brands to use across social media. I create authentic content that connects to your audience to allow you to build brand awareness, trust in your brand, and ultimately sell more products!
If you're looking for a professional content creator who understands the business of user generated content – I'm your girl!
I will produce videos based on brand guidelines, your goals and current trends. I have 10+ years of experience creating content for social media and can guide you through the process. I am comfortable showing my face and using my voice to help you sell more. I have a US accent, but can also utilise text-to-speech AI if you would prefer a different voice.
If you need to ship a physical product, please contact me before ordering so we can discuss your needs and scope of work!
Create a gig gallery
Create a gig gallery that showcases your work and helps buyers visualize what you can do for them. Don't just tell them, show them. Use an introductory video to round up what you can do for them, and then include samples of your work.
Set a price for packages
Set a competitive price for your service that reflects your skills and experience. Consider offering different packages at different price points to cater to different budgets.
For most creators, this will be Bronze, Silver and Gold. Feel free to change the wording of these, but buyers won't really notice. Decide on how you want to set up your services on Fiverr. Will you charge according to the length of video? Or keep all video lengths the same, but charge for additional hooks or angles? This will take trial and error but I'd always recommend keeping it as simple as possible off the bat.
📝 Bronze: Creative Concept and 1-15 second TikTok or UGC Video
Silver Creative Concept and 15-30 second TikTok or UGC Video 
Gold Creative Concept and 30-60 second TikTok or UGC Video
Add extras
Add extras to your gig, such as faster delivery or additional revisions, to increase its value to buyers. If you've charged by length of video, this could be a great place to upsell additional hooks, additional orientations or longer usage rights.
Getting Your First Review
Come on, be smart about this.
We won't beat around the bush here. Yes, you can plug away at getting your first client with no reviews, but we're going to work smarter here. We didn't tell you to do this, but HAVE A FRIEND BUY YOUR GIG. I see it time and time again — how do I get my first client on Fiverr? How do I get my first review on Fiverr? —- you do it by working your ass off. But you do it quicker, by just getting someone to leave one for you.
It's cheating the system, but having a platform review makes you trustworthy and will make getting that second client, the REAL one, a lot easier.
Delivering Your First Fiverr UGC Content
Once you've got that first client in the bag, you're off to the races.
What you're going to do, is over deliver. You're going to give the client more, because you need a glowing review and a repeat purchase. If the client asks for one 15-30 second video, you're going to give them that. But you're also going to give them a second one, with a second hook. It takes you an extra 10 minutes to whip up in CapCut, but they'll feel like they've just got double what they paid for.
Other considerations are product imagery, raw footage or trending videos if there is an obvious fit. Yes, you're working for free. Yes, charge your worth. Blah blah blah. If you're a new creator, you need reviews and you need repeat buyers to tell the algorithm that you are worth pushing out.
Over deliver. That is all.
Don't worry about watermarks. When you deliver your content, Fiverr gives you the option to watermark through the platform — when the buyer approves the work, the watermark will be removed. This means you're protected.
Things To Know If You're Doing UGC on Fiverr
Mariely, a UGC expert who worked primarily on Fiverr shares her top tips for UGC success on Fiverr. She's cultivated a base of raving clients, a consistent order queue and now makes a full-time living from the platform. In less than a year, she's gone from 0-100 glowing reviews on the platform.
Watch what you're saying
In conversation with buyers, do not share your email or phone number. Fiverr wants to keep business on their platform so you will most likely get flagged if you're over using terms. There are ways to easily move off the platform over time, but when you're starting out keep everything in chat.
You're also not supposed to ask buyers for reviews, or mention it in your gig. Over deliver and it'll happen naturally. I find that if I leave my buyer a review, they will often reciprocate just to see what I've said about them. Buyers can't see the review you've left until they leave one for you.
Don't Get Caught Short On Delivery
Take this from me, don't let a buyer order a gig without having organized delivery first.
I've had to 'extend' deliveries many times, because the buyer didn't send it on time or the shipment got delayed. If the buyer isn't active and doesn't accept your extension request – your order will be marked as 'late' & this affects your analytics.
If the buyer is local and you know it won't take long to ship, work the shipping times days into your order delivery. If they are not local, wait until you receive it, then send the buyer the offer to place their order.
Protect Yourself (and Your Sanity)
If a buyer is rude to you in the messages, decline. If the buyer is condescending, decline. If they try to lowball you. Decline.
Even if these buyers were to go on and accept a counter offer, they are a headache to deal with 99% of the time and demand more than they are worth. You end up over-delivering & they still aren't satisfied. A bad review can make or break your prospects on Fiverr, so go ahead only with jobs you feel comfortable with. At the end of the day the ball is in the buyer's court when it comes to leaving a review, if they've been annoying initially they may come back to bite you here. These are fake accounts that send unsolicited messages asking for inappropriate content.
Include a disclaimer on your gigs stating that you don't accept requests for inappropriate content. If you do get a message from a spam account, don't engage with them, just block them immediately.
Fiverr could do more to protect their sellers, but ultimately they take less than a 20% cut. They deal with invoicing, you're protected for work delivered, and they bring you leads directly.

Remember, building a successful business on Fiverr takes time and patience. Don't get discouraged by the challenges you face, but keep pushing forward and learning from your experiences. You'll be a Fiverr UGC expert in no time.