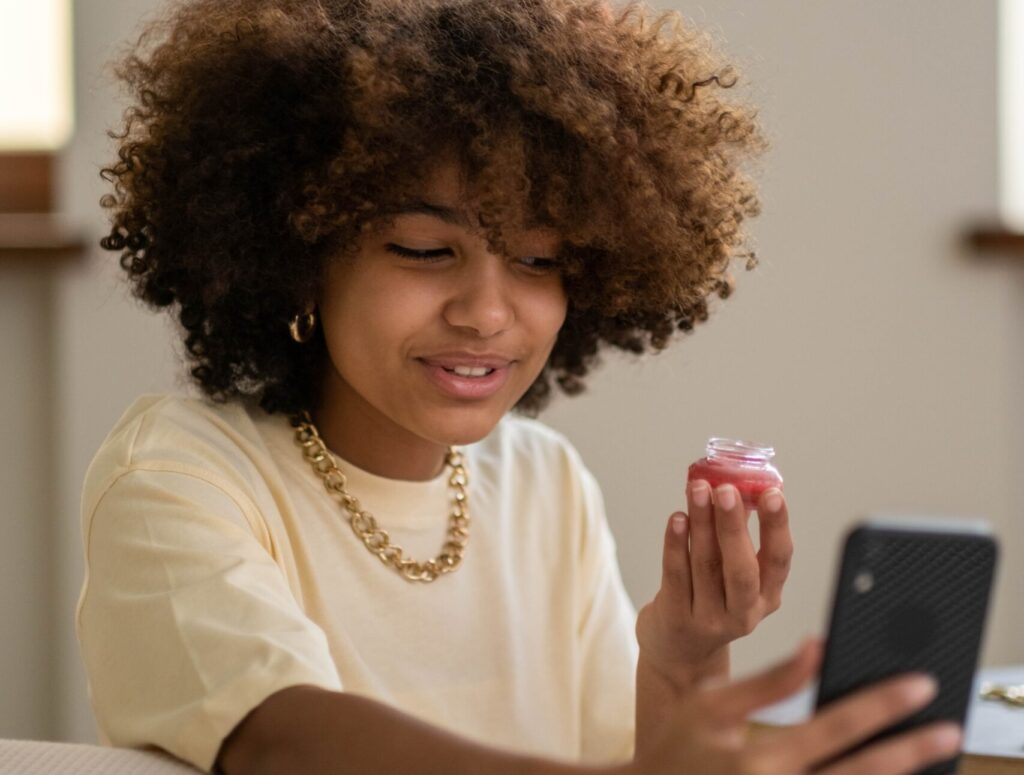 If you're looking to supplement earn more cash dolla as a UGC creator, the Amazon Influencer Programme can be a great way to skyrocket your revenue.
Ok, skyrocket was probably strong – increase it marginally was probably better, but alas, it's an option to make more moola as a UGC content creator in 2023.
You can enjoy the rush of selling products, without taking on the risk of inventory or running costs. Just set-up your storefront, start creating content and bobs your uncle, you can start earning.
The challenging part isn't to getting your storefront up and running, but to get accepted. Once you're in, it's pretty straightforward. Plus, as you already have content creation skills, you've already got a leg up.
Does the Amazon Influencer Program sound to good to be true? Here's everything you need to know.
What is the Amazon Influencer Program?
The Amazon Influencer Program is an affiliate marketing program offered by Amazon that allows creators to earn money by promoting products on Amazon. Think of it as an extension of the Amazon Associates program, the traditional affiliate program offered by Amazon. The Influencer Program caters to us young folk who live on social media.
Influencers can create a unique storefront that showcases a curated selection of products. You can customize the storefront with your own branding and share the link with an audience. When their followers make purchases through their storefront, the influencers earn a commission on those sales. Now contrary to popular belief, the store front isn't the only way for UGC creators to earn through the influencer program.
In fact, it's not even the best option for UGC creators. Enter, On-Site Commissions. But we'll touch on that in a bit.
Amazon Storefront
The Amazon Storefront is the most commonly known 'program' within the Amazon Influencer Program. If you're accepted into the program, you're eligible to have a store front and this is where you'll drive traffic to. It serves as a centralised one-stop-shop where customers can browse Amazon products curated by you.
You'll then add a banner image, a logo, and use a customisable layout to make it a cohesive and visually appealing shopping environment that resonates with your audience.
You'll drive your audience towards this storefront and then earn a commission off of any purchase directly, or indirectly, from your storefront. Ie if someone clicks through one of your social media videos to your store front then continues to browse on Amazon and eventually checks out, you'll get a pay out.
With access to analytics and insights about performance – ie traffic, page views, and sales data – you'll be able to see what's working, and what isn't.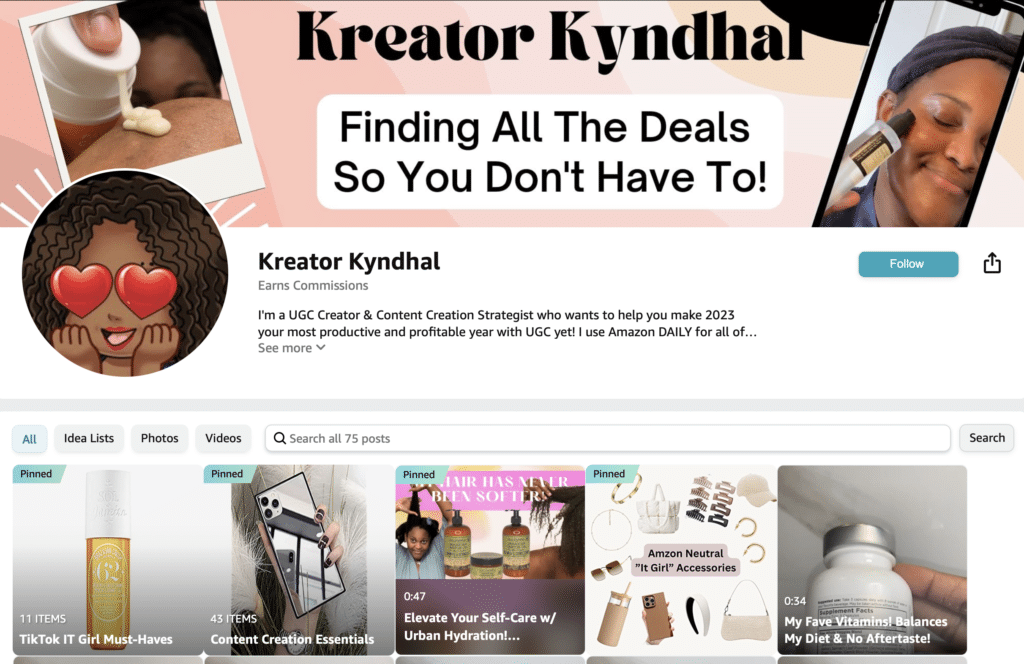 Amazon On-Site Commissions
On-site commissions are where you want to be.
In the right hand corner of your dashboard, you'll find 'earned onsite commissions' and it may be locked. Unlock it, and your videos will be placed on actual listings.
Amazon Onsite Commission is an Amazon-sponsored program that can pay users for videos of product recommendations and reviews. It essentially works by paying you a commission for video reviews you upload about Amazon products. When customers click on or stream your review content, you earn a commission based on how long they watch your review.
A customer only needs to watch 30 seconds of your review video for Amazon to pay a commission, they don't actually need to purchase the item. I mean come on – easy money! If they do go ahead and purchase, you'll earn a commission there too.
According to Youtuber Kevin – Financial Tutor, some users on Amazon Onsite Commissions are earning thousands of dollars every month from the program. Kevin, himself, earned nearly $2,000 from the platform as a side hustle.
Add that your UGC earnings and you're on to a winner.
How To Unlock On-Site Commissions on Amazon for UGC
It's really easy to apply for on site commissions once you're in the Amazon Influencer Program, but unfortunately getting approved isn't as easy. In fact, more often than not it's a bit of a slog, so strap in.
You need to have 3 approved videos uploaded before you're considered for on site commissions. Do not upload more than this. I know it's tempting, but Amazon staff manually review these, so if you've got 50 on there, it's just going to slow down the process.
Quick Hit List for On-Site Commissions
✅ Upload 3 videos, with one product per video.
✅ Film your first 3 videos horizontally and edit in CapCut so that there are no social watermarks.
✅ Make your videos 30-50 seconds.
✅ Include voiceover or direct camera speech, no music.
✅ Keep your title simple but unique. Only capitalize the first letter in your first word.
✅ Keep your style simple. It's not an ad, but a product review.
✅ Don't mention price/affordability as this can be subject to change.
How Much Does The Amazon Influencer Program Pay?
How long is a piece of string? Amazon Influencer Program varies based on the product categories and the commission rates set by Amazon. You can earn anywhere from 1% to 10% commission on each sale generated through their referrals.
It's important to note that the commission rates are applied to the qualifying purchases made by customers who click on an influencer's referral link and complete a purchase within a specific time frame. The commission is based on the product's price at the time of the purchase, excluding taxes, shipping fees, and returns.
The amount of money you'll make individually will depend on how well you perform in the program. What's your audience size, engagement level, and the effectiveness of your content. Some creators are earning a few dollars per month, while others with a larger following and higher engagement can potentially earn tens of thousands of dollars per month. Yes, you read that right.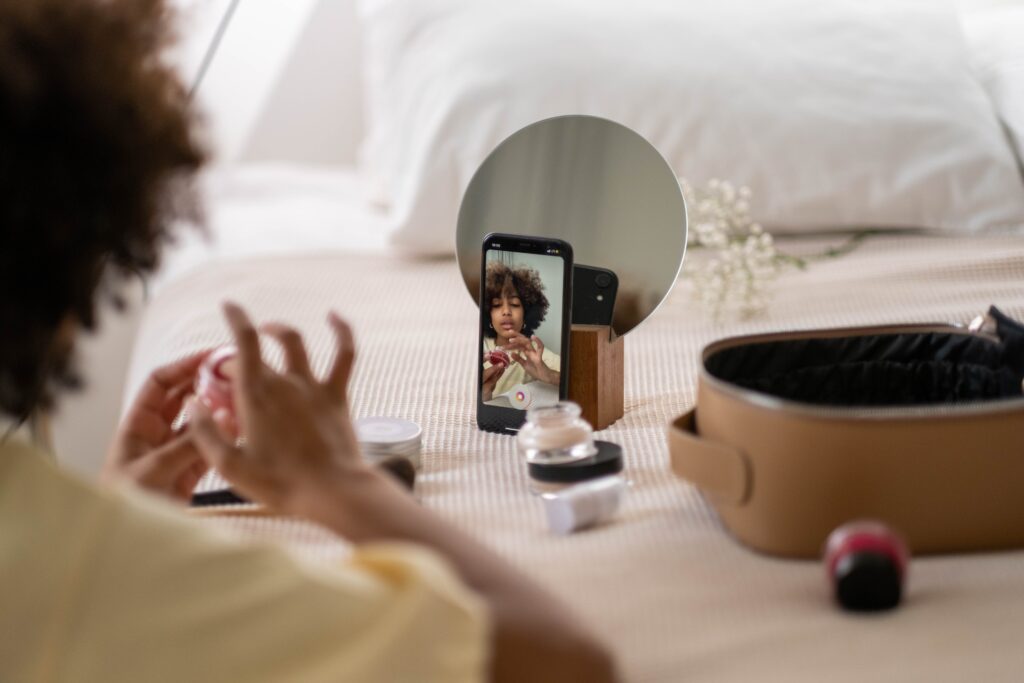 Do You Need Followers For Amazon UGC?
Yes, and no. To qualify for the Amazon Influencer Program, you do need to have some form of social media presence with engaged followers. Amazon have been coy with giving an exact figure for 'followers'. We've heard of people with 75 followers getting accepted and those with 10,000 followers unable to make the cut.
Really, it comes down to account engagement. Amazon want to see a demonstrated ability to drive engagement and influence purchasing decisions, so if you've applied and been rejected, make that your focus over the 30 days.
Post once per day for a month, focusing on content you know your followers will want to engage with. Actively comment on either people's content and try and encourage as much engagement as possible, then try again.

It goes without saying the Amazon Influencer Program presents an exciting opportunity for UGC creators in 2023. While it won't be an overnight game changer, it's another avenue to allow you to diversify your revenue streams. Every creator needs UGC side hustles after all? Good luck!