ChatGPT can revolutionize your UGC content (if you know how to use it).
As the user generated content space gets more competitive, we're all looking for innovative ways to get ahead of the pack. Tips, tricks and tools to make life easier, and our videos better. ChatGPT is one tool that's causing a buzz.
What is ChatGPT? Chat GPT is a powerful language model that can help automate content creation, generate new ideas, and more. Get it right, and you can create more engaging, personalized, and impactful UGC, whether you're a seasoned creator or just starting out.
Ready to take your user-generated content to the next level?
Here's 5 ways UGC creators can use ChatGPT in 2023.
1. Sales Email Sequences
One way that ChatGPT can help UGC creators is by assisting with outreach email sequences. We've all been there, hammering away at outbounds. What if you could make it just that little bit less soul sucking?
Use ChatGPT to create a full outreach strategy and have ChatGPT build out the copy too.
By providing ChatGPT with information about your audience and goals, it can generate email templates that are tailored to your brand and message. With ChatGPT's assistance, you can craft compelling email sequences that are more likely to engage your audience and drive conversions. Plus, using ChatGPT for outreach emails can save you time and resources, freeing you up to focus on other important aspects of UGC.
You can ask ChatGPT how many follow-ups you want and have it create this in different tones (humorous, entertaining) to be more attention grabbing.
Example: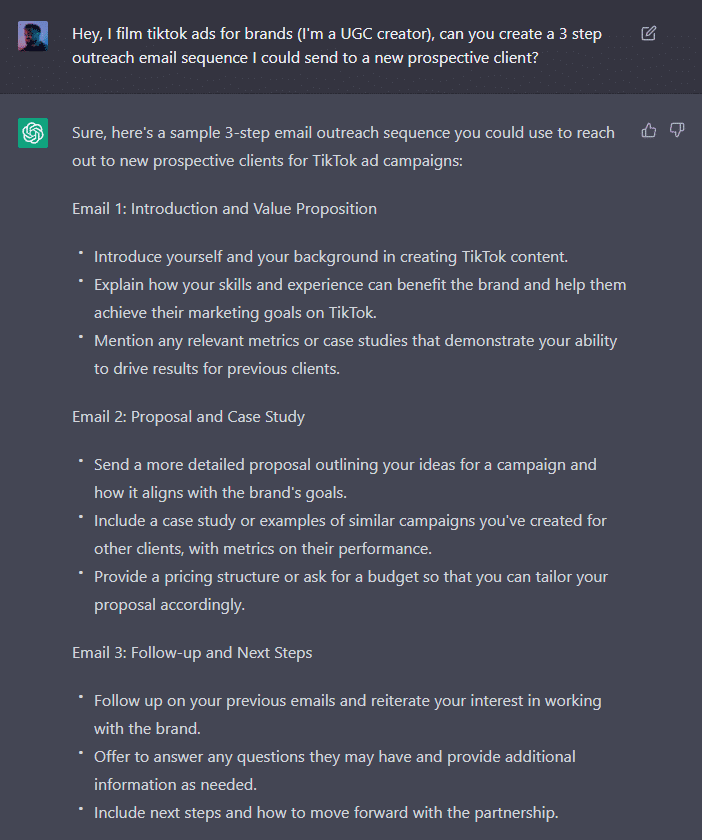 💡 Prompt: Hey, I film TikTok ads for brands (I'm a UGC creator), can you create a 3 step outreach email sequence I could send to a new prospective client?
2. Concepts/Angle Ideas
Struggling to come up with script angles/what to say? Ask ChatGPT.
With ChatGPT, you can input a topic or keyword and let the model generate ideas for new angles or concepts to explore in your UGC. You can get inspiration for unique angles that your audience hasn't seen before, helping your content stand out from the competition. Remember, the tool only takes information from prior to 2021, so you're not going to be getting any trends or real-time suggestions, but it can help as a starting point for you to then move forward from.
The more specific you are, the better your end result will be.
Mention the product, it's main USP, and get angle ideas.
Example: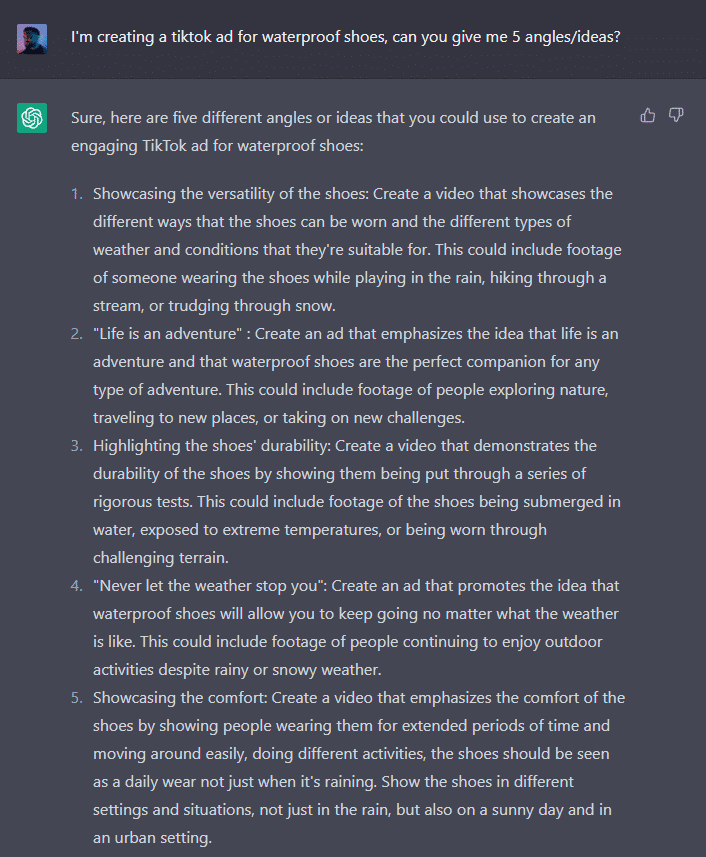 💡 Prompt: I'm creating a TikTok ad for waterproof shoes, can you give me 5 angles/ideas?
3. Scripts
Once you've got your angles, ask ChatGPT to create a script for it.
Creating video content can be time-consuming, and writing a script that captures your message and brand voice can be a challenge.
Tell it specifics (how long the script should be, its tone of voice, that type of thing). WBy leveraging ChatGPT to generate scripts, you can create high-quality video content that showcases your brand and message effectively.
You'll need to provide context about the brand or campaign, including the target audience, the goals of the campaign, and the desired tone and voice for the video. You may also want to include specific details such as the format, or length of the content. Additionally, providing some examples of successful ads can be helpful to give ChatGPT a sense of the brand's style and messaging.
Example: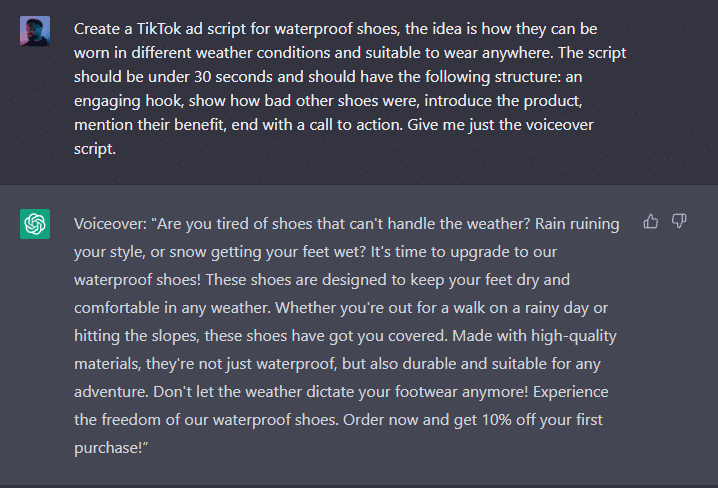 💡 Prompt: Create a TikTok ad script for waterproof shoes, the idea is how they can be worn in different weather conditions and suitable to wear anywhere. The script should be under 30 seconds and should have the following structure: an engaging hook, show how bad other shoes were, introduce the product, mention their benefit and end with a call to action. Give me just the voiceover script.
4. Visual Ideas
Once you've got a script, you can even ask ChatGPT for visual ideas and what you should film. Creating compelling visual content requires careful planning and attention to detail, but ChatGPT can help simplify the process by generating a shot list that outlines key shots and angles for your video content.
Take it one step above by specifying the shot style.
Example: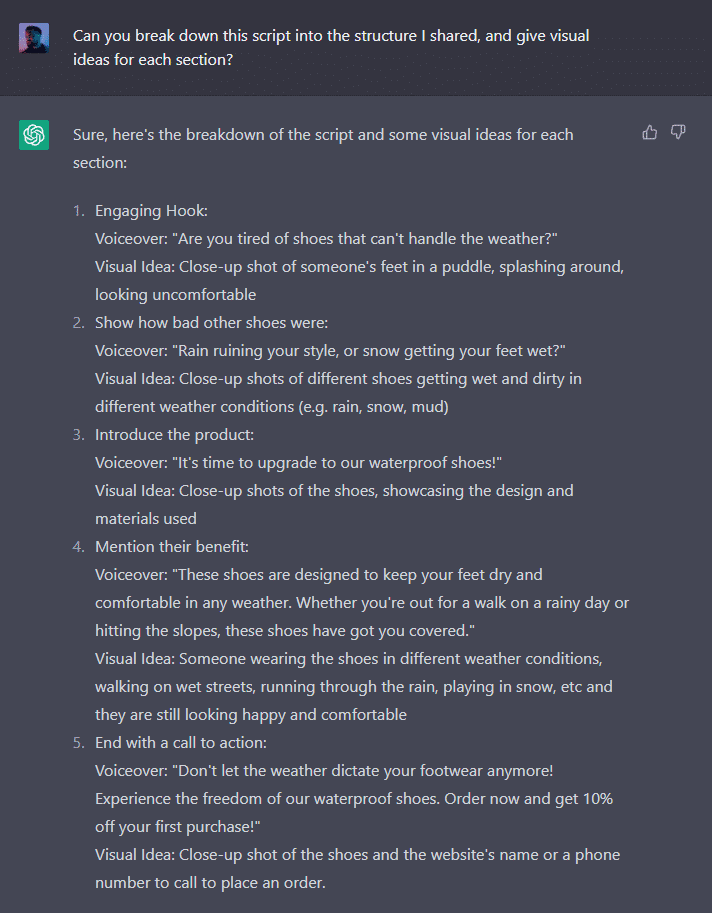 💡 Prompt: Can you break down this script into the structure I shared, and give visual ideas for each section?
5. Portfolio/Website Copy
Everyone's got the same UGC portfolio. Everyone has very similar text.
Make yours stand out with a unique copy that's been written to engage and convert! Crafting copy that effectively communicates your personal brand message and values can be challenging, but ChatGPT can help simplify the process by generating copy that's tailored to you as a UGC content creator.
Example: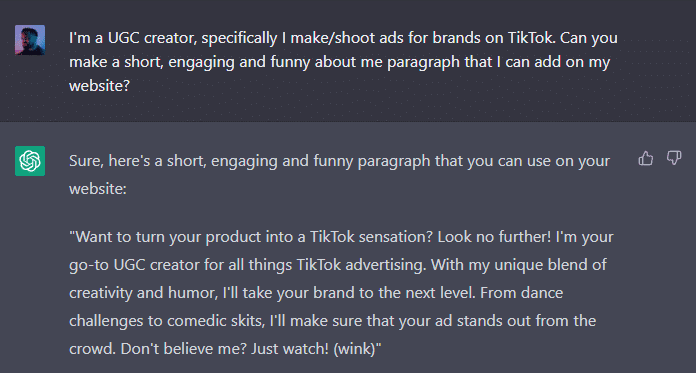 💡 Prompt: I'm a UGC creator specifically I make/shoot ads for brands on TikTok. Can you make a short, engaging and funy about me paragraph that I can add on my website?
By leveraging ChatGPT's AI capabilities, you can change the game as a UGC creator.
You can refine the inputs and get some crazy good results.
I'd suggest not just copying and pasting what ChatGPT suggests. This should be used as an INITIAL version instead of starting blank. But, we all know the hardest part of doing is just starting. ChatGPT removes that barrier.
So why not give it a try and see how it can benefit your UGC creation efforts? With ChatGPT, the possibilities are endless.